Extending primary edu not gonna be easy
Experts tell seminar at DU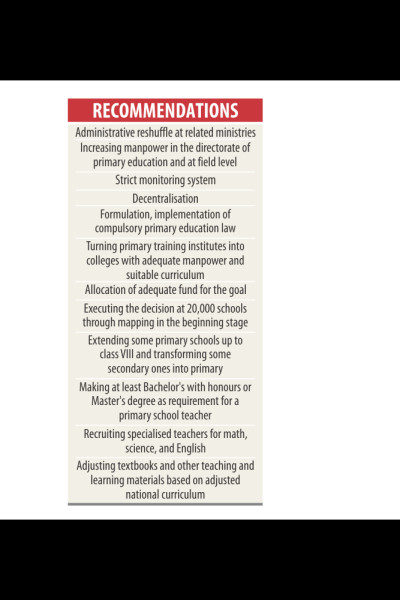 Extension of primary education up to class VIII would be a major challenge as it would require appointment of skilled and additional teachers, their training, preparation of new curriculum and textbooks and a big expenditure, said educationists and government officials.
Most of the discussants advocated scrapping the primary terminal examinations this year, saying the exams at this stage create a huge pressure on the children. They also suggested making the curriculum and textbooks simpler.
They were addressing a seminar, "Primary Education up to Class VIII and the Reality", at Nabab Nawab Ali Chowdhury Senate Building of Dhaka University yesterday.
On May 18, the government took the decision to extend the level of primary education from class V in line with the National Education Policy 2010.
In his keynote speech, Prof Siddiqur Rahman, a former teacher of the Institute of Education and Research at DU, stressed formation of a curriculum development committee and preparing new syllabuses for class VI, VII and VIII considering those under the primary level.
"Initially the government needs to introduce class VI, VII and VIII at 20,000 primary schools and each school should have at least five new teachers. Therefore, a total of 1 lakh more teachers will be needed."
M Tamim, a professor of Buet, said, "Primary education should be learning-oriented, not result-oriented."
He urged the government to take measures so that talented people join the teaching profession.
Prof Md Akhtaruzzaman, dean of the arts faculty at DU, said the textbooks at primary level were faulty and complex.
"We need to simplify the textbooks so that those become self-explanatory and the students can understand easily," he said.
Primary and Mass Education Minister Mostafizur Rahman said the main purpose is to make the children skilled human resource. They would prepare new textbooks taking suggestions from the experts, he added.
About the exam he said, "We are thinking about the abolishment of primary terminal exams of class V. But it's a question that how government will give scholarship to a large number of students who get the stipends from class VI to Class VIII on the basis of their results of PSC (primary school certificate) exams."
Former Education Secretary Nazrul Islam Khan, however, said the terminal exams of class V should not be abolished until a proper class assessment was introduced to primary schools. The incumbent PSC exams are needed to evaluate the standard of the students and schools.
Md Humayun Khalid, secretary to the primary and mass education ministry; Md Alamgir, director general of the directorate of primary education; Narayan Chandra Saha, chairman of National Curriculum and Textbook Board (NCTB), also spoke among others.
Currently, there are 63,000 government primary schools across the country providing education up to class V.