Indian Army Chief Meets President
Exchange of training between armies stressed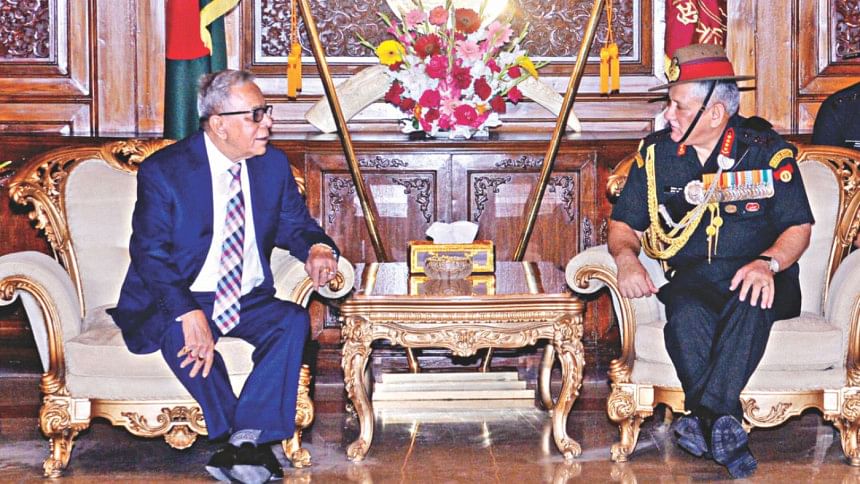 Visiting Indian Chief of Army Staff General Bipin Rawat yesterday met President Abdul Hamid and Bangladesh Chief of Army Staff General Abu Belal Muhammad Shafiul Huq.
Gen Rawat met President Hamid at Bangabhaban in the afternoon, reports UNB. President's Press Secretary Joynal Abedin briefed reporters after the meeting.
Welcoming the Indian army chief, the president said holding joint exercises and training at army levels will play an important role in boosting relations between the armed forces.
The president stressed the need for exchange of technology and training between the two armies for enhancing professional skills.
He also expressed gratitude for the cooperation as well as assistance of the Indian people, including the army, during Bangladesh's Liberation War in 1971.
Gen Rawat hoped the exchange of training will further help establish a good relation between the countries.
Secretaries concerned to the president and Indian High Commissioner in Dhaka Harsh Vardhan Shringla were present.
Earlier in the day, the Indian army chief called on his Bangladesh counterpart Chief of Army Staff General Abu Belal Muhammad Shafiul Huq at the Army Headquarters, reports BSS.
"During the talks, they…discussed matters of bilateral training of two friendly armies…," said a press release of Inter-Services Public Relations.
General Rawat arrived in Dhaka on a three-day visit on Friday.