Evidence found against 2 Habiganj 'Razakar' brothers
Investigation agency to submit report to prosecution today; another prosecution witness implicates Taher-Noni in murder of 10 Netrakona villagers; five charges taken into cognizance against eight suspects of Jamalpur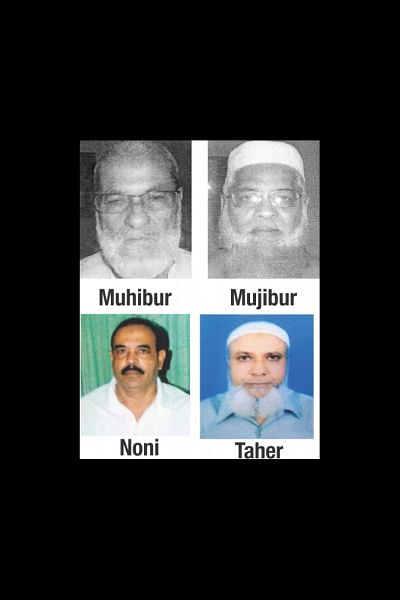 The probe report, witnesses' statements and documents against two Habiganj "Razakar" brothers will be provided to the prosecution today with the investigation agency stating of having found evidence of their involvement in crimes committed during the 1971 Liberation War.
Meanwhile, the fourth prosecution witness told International Crimes Tribunal-1 that Obaidul Haque alias Taher and Ataur Rahman alias Noni were involved in killing at least 10 villagers of Asma in Netrakona during the Liberation War.
Moreover, International Crimes Tribunal-2 took into cognizance five war crimes charges, including murder, abduction, confinement and torture, against eight Jamalpur men who allegedly had links with Al-Badr during the Liberation War.
HABIGANJ RAZAKARS
Muhibur Rahman Boromian, 65, is the former chairman of Baniachang upazila's Khagaura union parishad while Mujibur Rahman Angur Mian, 60, the incumbent.
"Four charges of killing, rape, abduction, confinement, torture, looting, arsons and rape have primarily been proved against them," Sanaul Huq, a senior member of the investigation agency, told journalists at its Dhanmondi office in the capital yesterday.
Sanaul said they were "involved" in the killing of freedom fighter Rajab Ali, rape of two women, arson and looting of the house of Maj Gen MA Rob, the deputy commander-in-chief during the Liberation War, and the abduction, confinement and torture of Anfar Ali.
The prosecution will scrutinise the documents and if satisfied, will press the charges to initiate trial.
The agency's coordinator Abdul Hannan Khan said Kalamdhar, the duo's brother, was the chairman of Khagaura Union Peace Committee, an anti-liberation organisation, while another brother, Mostafa, was commander of a Razakar camp in their village.
Muhibur and Mujibur were "notorious Razakars" of the camp, said Hannan, adding that Kalamdhar and Mostafa were killed during the Liberation War.
Noor Hossain, the case's investigation officer, said one Bhinraj Bibi in 2009 filed a case against the siblings over 1971 crimes and it was handed over to the agency through the International Crimes Tribunal's registrar office.
He said they have named 21 prosecution witnesses.
Muhibur and Mujibur, sons of Darachuddin of Kumurshana village in Baniachang, have been in jail since their arrest on February 10.
Today's date was fixed for the probe report's submission before International Crimes Tribunal-2.
OBAIDUL HAQUE AND ATAUR RAHMAN
Abu Taher, 59, said on the 1st of Kartik (October 16) around 2:00pm the Pakistani occupation army and local Razakars, including Taher and Noni, picked up his father Chanfor Ali from their house accusing him of sheltering freedom fighters. The third witness had given a similar description.
They rounded up another eight to 10 villagers from Gumoria and Laufa including one Rishi Mia, which Taher witnessed from a paddy field. 
"I heard sounds of gunshots. After the Pakistani army and Razakars left, I came out...and found bodies of Ruj Ali and Zafar Ali near a bamboo bridge," he said.
Two of the detainees, Alam Kha and Sadek Ali, were set free on condition of bringing information about freedom fighters.
"Two days later, my bullet-hit father returned home and said the other detainees were shot dead by Razakars, including Taher and Noni," said Taher, adding that despite being hit by three bullets, his father had managed to dive into a river and escape.
Chanfor died 10 to 12 years ago suffering for long from disabilities. "I want justice for my father's detention, torture and injury and the killing of others," said Taher.
Proceedings were adjourned until today. Taher and Noni face six charges of genocide and crimes against humanity. 
EIGHT JAMALPUR MEN    
The three-member tribunal chaired by Justice Obaidul Hassan also directed the inspector general of police to submit a report by May 6 on whether six of the eight are absconding.
Shamsul Haque, 75, and AKM Yusuf Ali, 83, are in jail. The remaining are Ashraf Hossain, 64, Prof Sharif Ahammed, 71, Abdul Mannan, 66, Abdul Bari, 62, Harun, 58, and Abul Hashem, 65. 
The prosecution on April 19 pressed the charges centring nine criminal incidents occurring between April 22 and December 11.