Enforce law to stop public smoking
Lawmakers, campaigners tell discussion of PROGGA, The Daily Star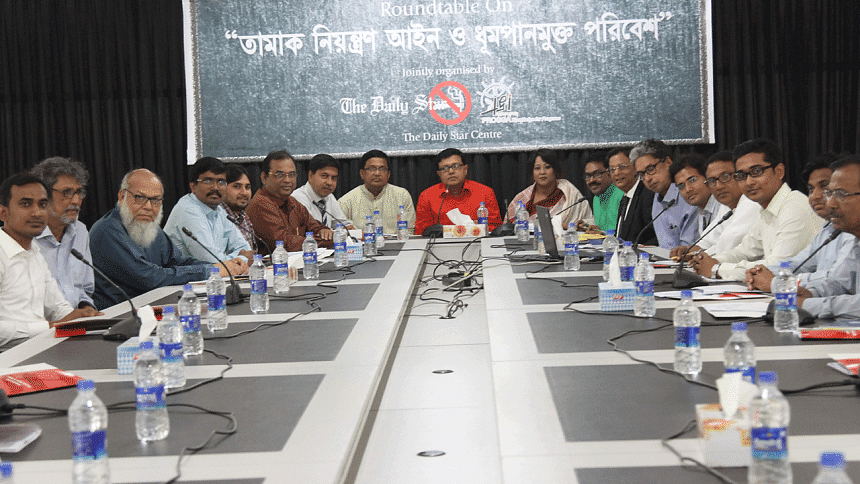 Lawmakers and anti-tobacco activists yesterday laid emphasis on strong enforcement of the new rules which impose greater restrictions on tobacco consumption to create a smoking-free environment in the country, particularly at public places.
They recommended ways to check promotional activities by the tobacco companies and its cultivation, and called for putting higher tax on cigarettes. 
The observations came at a roundtable, "Tobacco Control Law and Smoking-free Environment", organised by anti-tobacco campaigner PROGGA and The Daily Star in The Daily Star Centre of the capital.
Officials said the Tobacco Control Law-2005 was amended in 2013, and related rules were formulated early this year. 
The rules identify 24 public places including all government, semi-government, autonomous and private offices, schools, colleges, universities, libraries, lifts, indoor workplaces, hospitals, clinics, courts, sea, air and airport buildings, cinemas where smoking is prohibited. 
Railway stations, bus terminals, theatres, marketplaces, restaurants surrounded by walls on four sides, public toilets, children's parks, passenger sheds, and eight types of public transports are also considered as no-smoking areas. 
Anyone smoking in such places faces a fine of up to Tk 300, and the custodian of that place a fine of up to Tk 1,000, if they do not hang cautionary notices saying "Refrain from smoking: It is a punishable offence".
According to the World Health Organization's (WHO) 2004 data, annually 57,000 people die and 3.82 lakh get sick for reasons linked to tobacco consumption in Bangladesh.
Stressing media campaigns, lawmaker Nabi Newaz said mobile companies, television channels, and cinema halls could play a great role against smoking. 
As the habit of smoking develops mostly during adolescence, the education ministry can run awareness campaigns at school on the dangerous impacts of smoking. 
"Massive media campaigning is imperative to create a situation in which people should feel ashamed of smoking. Campaigns also train people to abide by law," said another parliamentarian, Abul Kalam Md Ahsanul Haque Chowdhury.
The health ministry direct doctors to advise patients against smoking, he added.
Referring to Rangpur where tobacco cultivation has fallen for establishment of other factories, he suggested giving alternatives to the tobacco farmers, particularly in Chittagong Hill Tracts.
Fazilatun Nasa Bappy, MP said a good number of women consumed smokeless tobacco like "gool", "khoini", "sadapata", which also needs to be considered during enforcement of law.
She said 1.8 lakh hectares of land saw tobacco cultivation annually in the country.
She suggested introducing helpline for complaining to the authorities on violation of rules, stop tobacco companies' promotional activities in the guise of social activities, imposing one percent surcharge on tobacco for health development.
Dr Habib-e-Millat MP said last year eight MPs wrote letters to the finance ministry for not increasing tax on tobacco. "But, this year, we, more than them, can write for increasing the tobacco tax," he said. 
All the MPs can write letters to the local hospitals to help enforce law, he said. 
Dr M Mostafa Zaman of WHO said Bangladesh was one of the countries where affordability of tobacco was the highest, and suggested licensing for cigarette traders.
Prof Golam Sarwar Chowdhury of the University of Liberal Arts Bangladesh said the proctorial bodies could fine smokers on the campus, with the University Grants Commission playing a role in it.
Dr Arup Ratan Choudhury, president, Association for the Prevention of Drug Abuse; Taifur Rahman, director, Campaign for Tobacco Free Kids (CTFK); Kazi Rafiqul Alam, president, Dhaka Ahsania Mission; Shariful Islam, consultant at CTFK, architect Nafizur Rahman, journalist Chitta Francis Rebeiro, Dr Shahed Imran, artist Fahim H Chowdhury, youth leader Rahatul Ashekin, The Daily Star Supplement Editor Shahnoor Wahid also spoke.