DU teachers hurt during BNP scuffle at Shaheed Minar
At least nine people including Dhaka University teachers were injured when a scuffle broke out between leaders and activists of BNP at Central Shaheed Minar early today.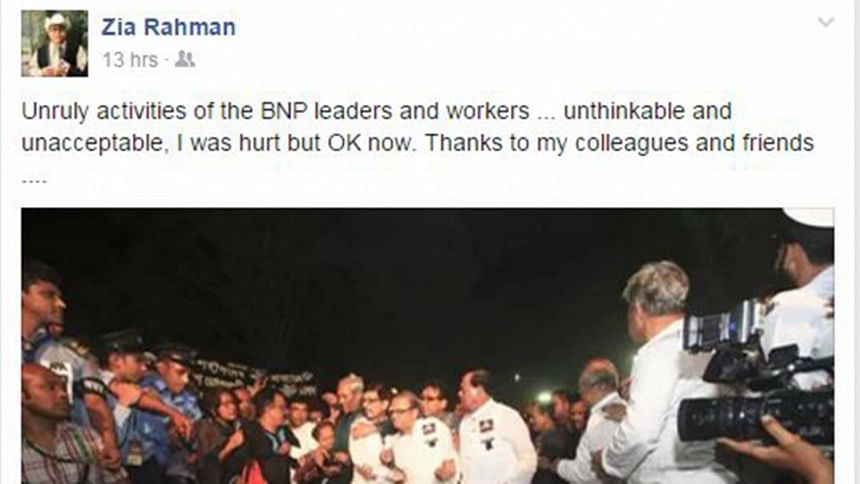 Prof Amzad Ali, acting proctor of Dhaka University, confirmed the incident that took place around 1:25am when BNP chief Khaleda Zia went to place wreath at the monument.
ALSO READ: Nation pays homage to Language martyrs
Dhaka University Vice-Chancellor AAMS Arefin Siddique and some other teachers went to meet Khaleda Zia, the proctor described. It was then the scuffle broke out.
Zia Rahman, chairman of criminology department, who was injured at the scene, said the "attack" was "unthinkable and unacceptable" in his Facebook status.
According to eyewitnesses, the teachers were shoved around rowdily by two groups of BNP activists. Several teachers, including Zia Rahman, fell down on the stairs of Shaheed Minar.
Four to five volunteers of Bangladesh National Cadet Corps (BNCC), who rushed to rescue, were also injured during the incident, DU Proctor Amzad Ali said.
Meanwhile, BNP Joint Secretary General Ruhul Kabir Rizvi Ahmed at a press briefing today claimed that his activists were "attacked" by police near the Shaheed Minar.
"Police repeatedly tried to bar BNP Chairperson Khaleda Zia from Shaheed Minar. They placed barricades at multiple points on the road. We condemn this attitude."
He alleged several BNP activists were hurt during the police attack near Shaheed Minar.