Don't fund Rampal power plant project
Environmentalists urge international financial institutions from campaign launch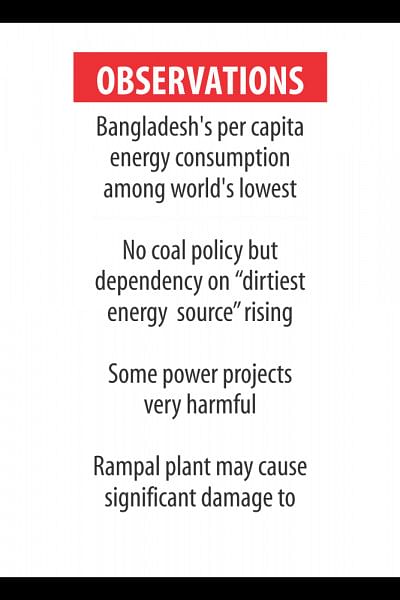 Environmentalists yesterday announced launching a campaign urging international financial institutions to publicly rule out involvement in the coal-fired Rampal power plant, discouraging potential equity investment and asking the government to abandon the project in order to save the Sundarbans.
Indian activists will also be contacted and have been urged to join the movement for the project is being implemented by the Indo-Bangla friendship power company, owned by two national power companies of India and Bangladesh, they said.
The declarations came at a press conference following a two-day conference "Coal Energy in Bangladesh: Impacts on Water and Climate" organised in the capital's Brac Centre Inn by Waterkeepers Bangladesh, National Committee for Saving the Sundarbans, and Waterkeeper Alliance. 
"So we will continue our movement in Bangladesh in a coordinated way," Anu Muhammad replied to a question, adding that the project's financiers would be getting a "sovereignty guarantee", meaning a government guarantee that all obligations would be satisfied when and if the primary obliger goes into default.
Sharif Jamil of Waterkeepers Bangladesh read out a "Dhaka declaration" which stated that the 1,320MW power plant was capable of causing significant damage to the world's largest mangrove forest's unique ecosystem.
The whole of Bangladesh will be threatened if the Sundarbans is not there, it said, also urging the government to abandon two other coal-fired 600MW power plants in Dhaka and Khulna, to be built by private company Orion.
Bangladesh's per capita energy consumption is among the world's lowest and the government is taking up power generation projects, including "some very harmful" ones which will not be cost-effective, said the declaration. The government is yet to formulate a coal policy but taking up projects involving the "dirtiest energy source", said speakers at the press conference.
"We want to protect the Sundarbans for the sake of the country and also for all the children," said Donna Marie Lisenby, the coal campaign coordinator of US-based organisation Waterkeeper Alliance.
National Committee for Saving the Sundarbans Convener Advocate Sultana Kamal, and Member Secretary Dr Abdul Matin, and Waterkeeper Alliance Regional Coordinator Min Zheng Asia also attended, while Nijera Kori Coordinator Khushi Kabir chaired the session.