Disbursement cumbersome
States frustrated finance minister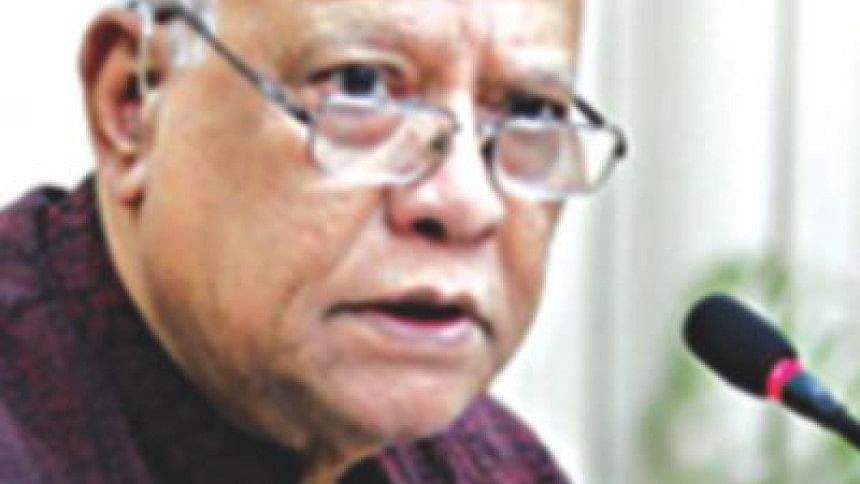 Finance Minister AMA Muhith yesterday expressed his frustration as the developed countries have been maintaining a "cumbersome" procedure for disbursing the climate change fund.
"The procedures for the use of climate change fund are ridiculously complex," he said at the inaugural of a media workshop on Sustainable Development Goals (SDGs).
The minister said developed countries are primarily responsible for the climate change, which is affecting countries like Bangladesh that do not have much contribution to carbon emission.
"They have demonstrated good will in terms of financing the climate change programme. They're doing [the funding] all over the world, although Bangladesh is very unfortunate that it doesn't get much of the share," he said. "I am raising this concern through this programme."
The workshop, held in the city's Cirdap auditorium, was jointly organised by Inter Press Service (IPS), an international news wire service, and United Nations Foundation.
Financing for adaptation is critical for Bangladesh that tops the list of countries that are most vulnerable to climate change.
According to the Inter-governmental Panel on Climate Change (IPCC), each metre of rise in sea level will inundate 17 percent of landmass in Bangladesh.
Experts say Bangladesh faces challenges of frequent cyclones, floods, changes in rainfall patterns and salinity, which in turn affect the country's agricultural production system and public health.
Dr Qazi Kholiquzzaman Ahmad, Bangladesh's lead negotiator at the Paris climate conference this year, said the supply of funds by the developed countries is meagre, but it comes with a variety of conditions.
He said the bilateral development partners had committed $190 million since the Bangladesh Climate Change Resilient Fund was established in 2011. However, till date, they released only $130 million, noted the economist who is also chairman of Palli Karma Sahayak Foundation.
The developed countries disburse the climate funds through an international agency, which has its own methods for managing the fund and in the process the agency deducts an interest of 12 to 13 percent, he added.
"They [developed countries] don't want to channel the fund through any domestic organisation" and the process is very cumbersome, he told The Daily Star on the sideline of the workshop. 
"Shortage of money is hindering many of the activities that address climate change impacts," Dr Kholiquzzaman said.
Addressing as the chief guest, finance minister Muhith said the objective of the SDG, in principle, is to ensure that development works are sustainable and no one is excluded from the programme during the process.
Despite all the setbacks, he hoped that Bangladesh would achieve the SDGs well before the stipulated time of 2030.
UN Resident Coordinator in Bangladesh, Robert D Watkins, said improving quality of development is the mainstay of the SDGs. Apart from economic and social development, there must be environmental development as well, he noted.