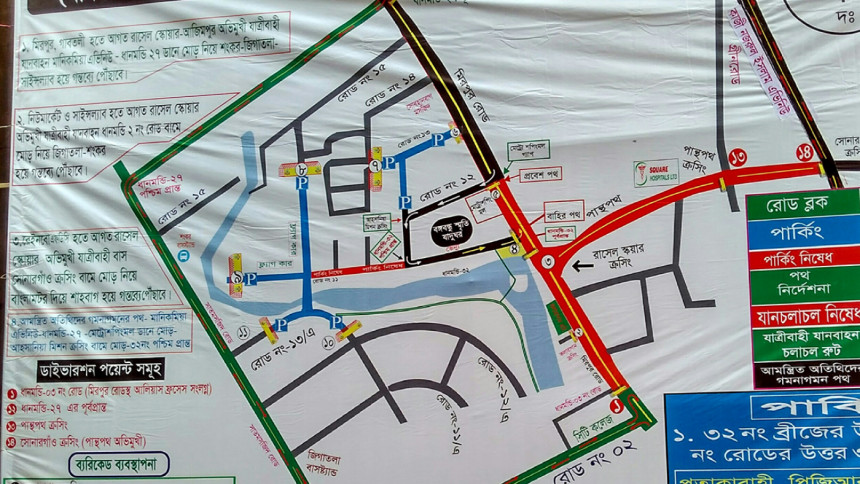 Vehicular movement in and around Bangabandhu Memorial Museum at Dhanmondi will be curtailed on the occasion of National Mourning Day on August 15.
Dhaka Metropolitan Police will restrict vehicular movements from Sonargaon crossing to Russel Square, City College to Russel Square and Dhanmondi-27 to Russel Square in the capital on that day.
Extra security measures will be taken at Banani graveyard for the day.
"We'll give overall security throughout the day like the previous year. Although we have no specific report of threat by the intelligence agencies on the occasion, the law enforcers will provide tight security to avert any untoward incident," said DMP Commissioner Asaduzzaman Miah today.
After inspecting the security measures, the DMP commissioner held a press briefing at Russel Square of Dhanmondi 32 where he placed a set of directives for ensuring security and traffic management in the area.
As VVIP, VIP persons as well as people from all walks of life would place their wreaths at the portrait of the great leader in front of Bangabandhu Memorial Museum from 6:30am and at Banani graveyard at 7:30am on the day, the law enforces will give priority to ensure security at the two places, he said.
Both the spots will be brought under CCTV surveillance, he added.
Visitors will not be allowed to carry any trolley bag, vanity bag, Tiffin career, backpack and any explosives materials to enter the museum through a security archway, the DMP commissioner said.
VVIP, VIP and high military and civil officials will enter via the road beside Metro Shopping Mall and exit Bangabandhu Memorial Museum through Manik Mia avenue-Mirpur Road-Dhandmondi-27.
Different institutions, groups, organisations and people from all walks of life will enter the venue using east side and leave through the west side of the Dhanmodi-32.
Mourners will have to wait at Kalabagan Playground until the VIP and VVIP guests pay their tributes to the Father of the Nation at Dhanmondi.
On the fateful night of August 15 in 1975, Father of the Nation Bangabandhu Sheikh Mujibur Rahman was assassinated by a group of disgruntled army officers. Bangabandhu's wife Fazilatunnessa Mujib, sons Sheikh Kamal, Sheikh Jamal and Sheikh Russell and daughters-in-law Sultana Kamal and Rosy Jamal were also killed in the bloodbath, one of the most heinous in the world's history.
Sixteen more people, all close to Sheikh Mujib, were shot dead.