Roads to avoid today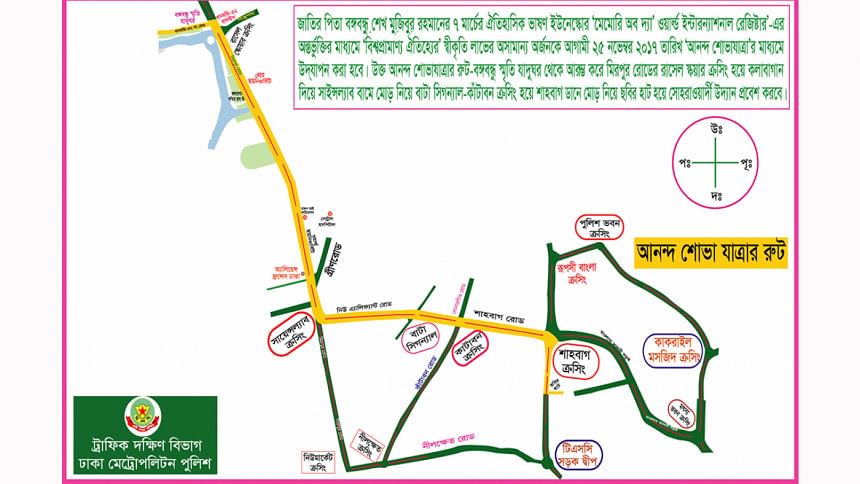 To celebrate Unesco's recognition of Bangabandhu Sheikh Mujibur Rahman's historic March 7 speech, the government employees will hold a joy rally in the city.
Owing to the rally, set to start at Suhrawardy Uddyan from 12noon, the Dhaka Metropolitan Police yesterday issued a map of the roads where vehicular movement will be controlled and are best avoided this afternoon.
The procession will be brought out from Bangabandhu Memorial Museum at noon. It will end at the historic Suhrawardy Udyan after marching through Russell Square on Mirpur Road, Kalabagan, Science Laboratory intersection, Bata Signal-Katabon crossing, Shahbagh and Chhobir Haat in front of Dhaka University Fine Arts Faculty, said a DMP press release.
Suhrawardy Udyan gates at Chhobir Haat, Teacher-Student Centre (TSC) of DU, opposite to Bangla Academy, Ramna Kali Mandir and Teen Netar Mazar will be used as entry points.
The DMP requested the intending participants of the procession to follow the route map and cooperate with the traffic division.
Commuters and city people have also been requested to avoid the area around Suhrawardy Uddyan as there will be day-long programmes in the historic field.