Demand for SQ Chy's death not contemptuous: AG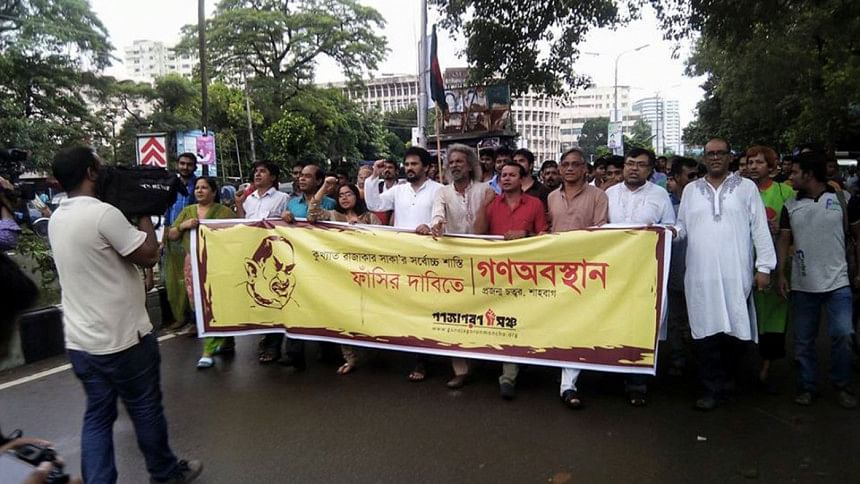 Gonojagoron Mancha's demand for upholding death of war criminal Salauddin Quader Chowdhury was not contemptuous, Attorney General Mahbubey Alam said today.
The AG said while refuting allegations of a lawyer of the war criminal that the Mancha, a youth platform that demands the highest penalty for war criminals, is pressing the apex court with their demand which is tantamount to contempt.
Briefing reporters at his office this afternoon, Mahbubey Alam said that the people of Bangladesh including different organisations had been demanding punishment of war criminals for a long time.
Shaheed Janani Jahanara Imam moved for trial of the war criminals and the present government was fulfilling that demand, he said adding, "There is nothing contemptuous in Mancha's movement".
BNP leader SQ Chowdhury's war crimes' appeal verdict will be delivered by the Supreme Court tomorrow. The attorney general hoped that the verdict will uphold death sentence considering the gravity of his wartime offences.
Earlier, Kahndaker Mahbub Hossain, a lawyer for SQ Chowdhury, alleged that Mancha was creating pressure on the apex court to uphold death for the BNP leader – what he claimed was tantamount to contempt of court.
"The Gonojagoron Mancha is chanting slogans demanding the death for SQ Chowdhury although the trial against Salauddin is pending with the apex court," he told the reporter at the Supreme Court Bar Association (SCBA) premises.
He expressed hope saying that the SC will take stern actions over the matter.