Ctg Airport Road Development Work
Delay increases sufferings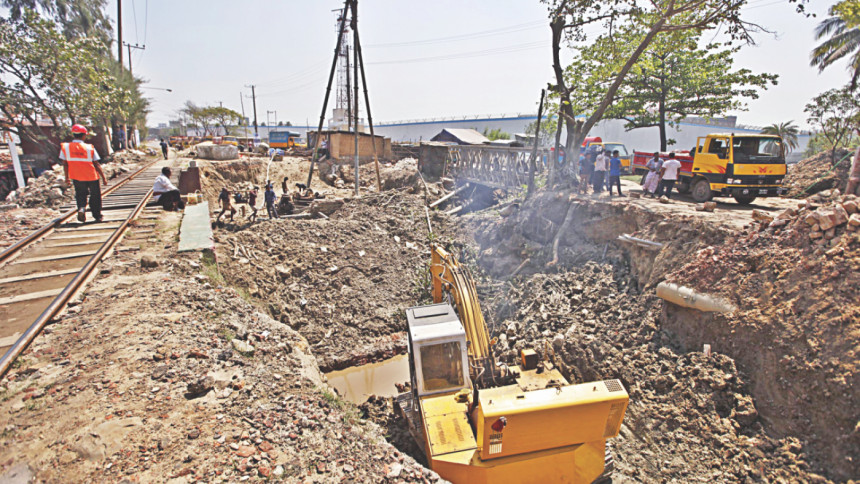 It is about a half an hour journey from Chittagong to Dhaka by air.  
The travel is short but the struggle to reach the airport from main part of the city is enormous.
And, it is all because of the ongoing development work for the three bridges on the airport road of the port city.
The makeshift arrangements for vehicular movement on this crucial road, which facilitates supplies from Patenga to the city and beyond, are not adequate enough to handle the huge traffic. Now, the journey has become time-consuming and hazardous.
"Now, the 45 minutes journey from Prabartak to the airport takes upto two hours," said James Gomes, Chittagong regional director of Caritas. "The situation worsens in the evening when it takes around three hours."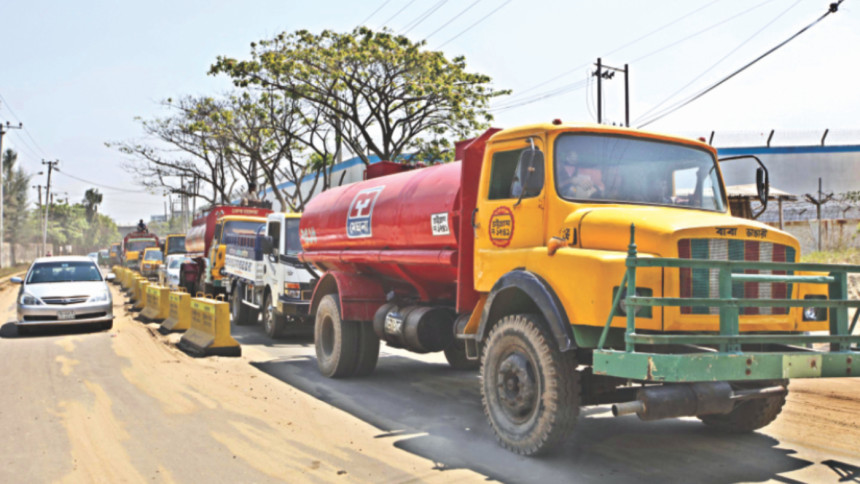 Along with Shah Amanat International Airport many businesses like Eastern Refinery Limited, Chittagong silo jetty and TSP Complex are located near the seven-kilometre airport road, which is used by thousands of commuters every day.
As a result, long tailbacks and sufferings of people have become a regular phenomenon.
"It takes me around two and a half hours to reach Cement Crossing from the airport due to tailbacks," said Morshed Alam, a resident of Bandar area.
In addition, some 1,000 goods carrying vehicles and oil tankers ply the road on a daily basis and have to spend more than two hours to cross the distance, said Munir Ahmed, president of Inter-district Malamal Paribahan Sangstha Truck Covered Van Owners' Association.
Financed by Japan International Cooperation Agency, the three bridges (one near Ruby cement, another over Guptakhal and the other in ghat-15 area) are being constructed spending about Tk 9.22 crore.
The Local Government Engineering Department (LGED) and Chittagong City Corporation (CCC) are constructing the bridges.
"Vehicles mostly get stuck near the construction sites of the two bridges (Ruby cement and Gupta Khal) since the temporary routes built to facilitate traffic are one-way," said Sergeant Ziaur Rahman of the traffic department of Chittagong Metropolitan Police.
The construction work for the bridges began in October 2015, and the work was supposed to be completed within a year. Later, the time was extended till August this year.
So far, the progress of the construction of the bridge near Ruby cement is about 50 percent, the bridge over Guptakhal is about 50 percent and the bridge in ghat-15 area is over 70 percent, said CCC sources.
Contacted, CCC Chief Engineer Lt Col Mohiuddin Ahamed said, "In the beginning, there was a problem in the project management. It took time to construct the alternative routes for vehicular movement since we had to change the original plan."
"Also, it took time to remove the utility lines from the areas," he added.
He said the diversion routes for the two construction sites could not be made into two-way roads for a lack of space.
The construction work is going on in full swing, he said. "Hopefully, we'll be able to complete it by June 20 as per the mayor's direction."