Cops again club Rampal power plant protesters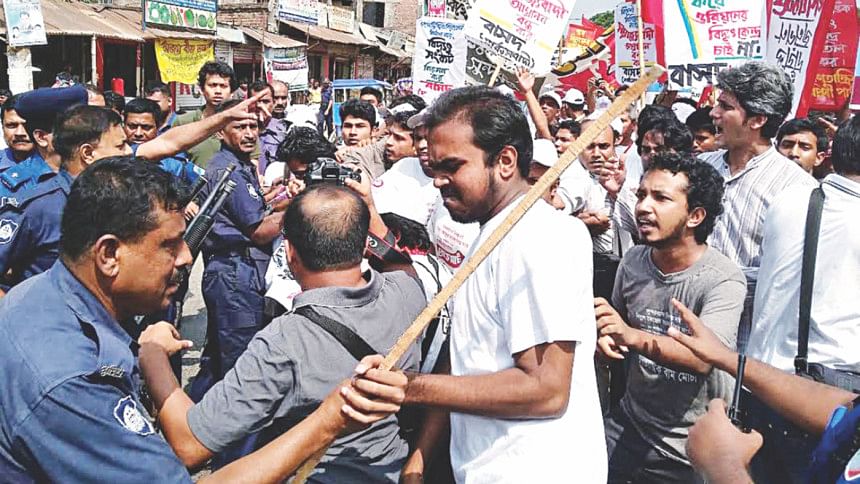 Some 15 Gonotantrik Bam Morcha leaders and activists were injured yesterday noon after police for the second time in two days charged baton in Magura on their "road march" from Dhaka to the Sundarbans demanding cancellation of the coal-based Rampal power plant project.
Meanwhile, another "Expedition to Save the Sundarbans" of the Communist Party of Bangladesh and Bangladesher Samajtantrik Dal over the same demand ended at Bagerhat after holding a rally at the Old Court Intersection.
Speakers at the rally announced holding a national convention in the capital on November 14 and that the National Committee to Protect Oil, Gas, Mineral Resources, Power and Ports will hold a rally on October 19.
The expedition started off from the capital's Jatiya Press Club on October 13, reports our Bagerhat correspondent.
POLICE TRUNCHEON
The injured include the morcha Coordinator Saiful Haque, Gono Sanghati Andolon Central General Secretary Zonayed Saki and Gonotantrik Biplobi Party General Secretary Moshrefa Mishu.
Some 100 persons of the morcha in a procession were heading towards the Vaina intersection from Kitchen Market in Dhaka road area when they were stopped by police, leading to a scuffle and then the baton charge, said witnesses. Magura Additional Superintendent of Police Tarikul Islam denied the use of force while the road "was being cleared" and said the demonstrators had not taken prior permission to hold the programme, reports our Jhenidah correspondent.
Saiful said they did not know permission was required and that they had left for Jhenidah. The morcha had earlier faced the police truncheons in Manikganj after starting off from the press club on Friday.