Collective efforts must to cut road accident deaths
Speakers tell discussion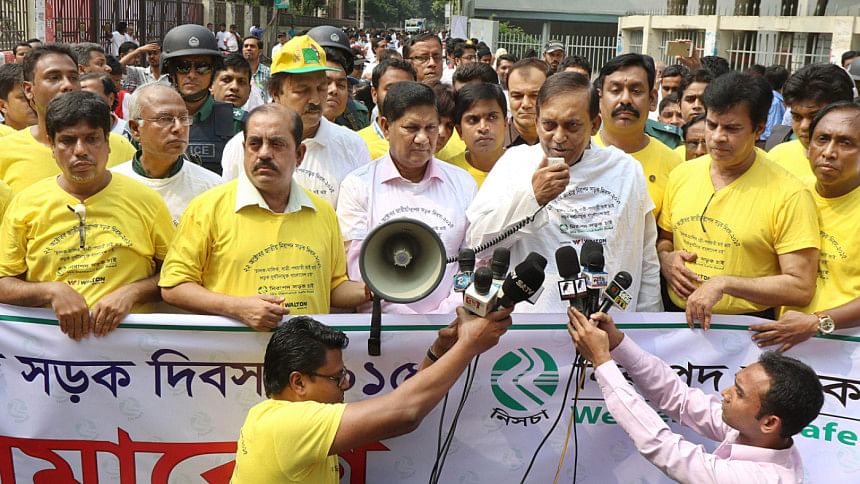 In addition to create wide-ranging mass-awareness, strict enforcement of traffic rules has become an urgent need to reduce road accidents that claim around 4,500 lives and injured scores of others every year in the country.
Speakers made this observation while addressing a post-rally brief discussion held on the Rajshahi College campus in the city yesterday. The district and police administrations jointly organised the pogramme titled "We Want Safe Road" in observance of "National Road Safety Day".
Commissioner of Rajshahi Metropolitan Police Md Shamsuddin, Deputy Commissioner of Rajshahi Mejbah Uddin Chowdhury and Director of Rajshahi Chamber of Commerce and Industry Sekendar Ali, among others, addressed the meeting.
Around 200 persons comprising government officials, human rights activists, leaders of road transport workers, students, volunteers and representatives of transport owners associations attended the rally and discussion.
RMP Commissioner Md Shamsuddin mentioned that the drivers alone are not accountable for accidents, the pedestrians are also responsible.
He underlined the need for strict enforcement of laws together with collective efforts of all, which can contribute a lot to reduce road accidents significantly in the country.
He viewed that road accidents could have been reduced substantially if the authorities concerned discharged duties properly while providing driving licenses and fitness certificates.
If drivers, helpers, members of law enforcement agencies and pedestrians obey traffic rules properly in discharging their duties from the respected sides, many road accidents could have been avoided, he opined.
DC Mejbah Uddin Chowdhury said the government has taken initiative to launch training institutes in all districts of the country to train drivers round the year.
Steps have also been taken to incorporate the issue of road accidents, and the causes and prevention in the curriculum besides various other programmes to reduce the country's road accidents by 50 percent within the next 15 years, he added.