Dhaka commuters suffer as 3-wheeler drivers begin strike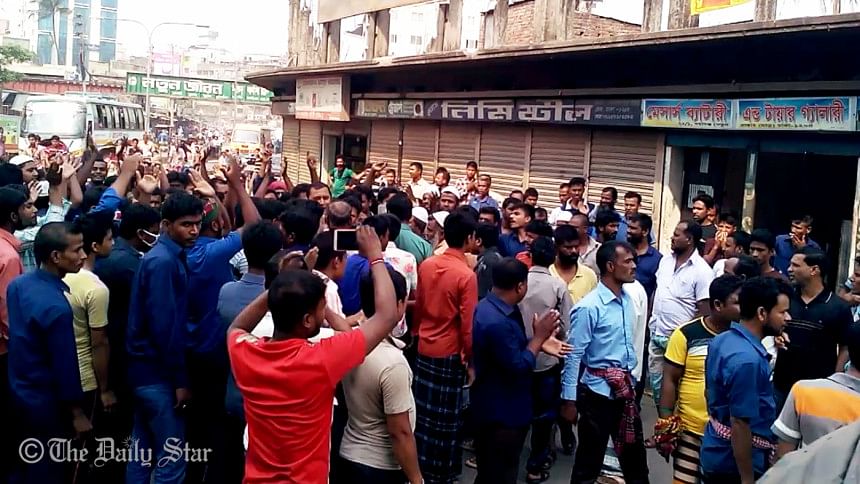 A section of CNG-run auto-rickshaw drivers began their 24-hour strike this morning, causing city dwellers to suffer due to the lack of three-wheeler vehicles in different parts of Dhaka city during the morning rush hour.
Dhaka District Four-Stroke Auto Rickshaw Drivers Union began the strike from 6:00am to press home their 7-point demand that included ending "harassment" by traffic police.
Protesters are barring other auto-rickshaw drivers to bring out their vehicles at many places including Satrasta, Modhubagh, Motijheel and Gulistan in the city.
Several drivers, who are not observing strike, claimed that they were being assaulted by the striking drivers, reports our correspondent on the field. Auto-rickshaws on the street were being vandalised during the strike at Satrasta intersection and Bangabazar, he added. 
Sumon, a driver, told the correspondent that he was barred by protesters at Satrasta and Modhubag but he somehow managed to escape.
Meanwhile, taking the advantage of crisis, some drivers who defied the strike are demanding eye-brow raising fare. Helpless passengers are seen yielding to their demands.
Sajib, one such victim to the exorbitant fare had to wait outside of Dhaka Medical College Hospital for 30 minutes before he could get a CNG who would charge no less than Tk 250 to go to Mohakhali. He boarded the vehicle, cursing the driver.
"Will their demand ever be stop?" asked Mohammad Malek, who used to go to his Uttara office with colleagues from Bakshi Bazar on auto-rickshaw.
"On most days we negotiate a price with the driver since they are reluctant to go by meter. Now they've come up with new demands," he said.
After failing to find an auto-rickshaw, he caught a bus to Shahbagh.
Their demands include stopping penalty, releasing drivers who were jailed, arrangement of sufficient parking spaces, re-adjustment of the government-set daily deposit charge paid by workers to owners and issuance of appointment letters or identity cards to drivers.
Around 10:00am, a group of protesters brought out a procession in Jatrabari area.
"We will give memorandum to the authorities concerned," said General Secretary of Dhaka District Four-Stroke Auto Rickshaw (CNG) Drivers' Union Kamal Ahmed.