Change must come from within, among all
Speakers say at programme on road safety awareness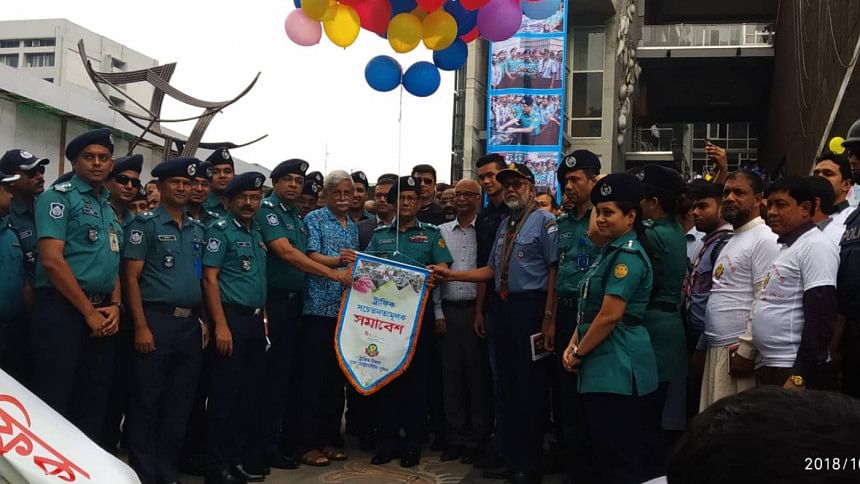 Some changes in the city's traffic system have transpired following student protests for road safety but those are not visible yet, Dhaka Metropolitan Police (DMP) Commissioner Asaduzzaman Mia said yesterday.
Police would initiate a 15-day special awareness programme again after Durga Puja, and such programmes involving senior students and volunteers would continue to make the changes visible and sustainable, he said.
Asaduzzaman was speaking at a programme in Krishibid Institution Auditorium in Dhaka where university teachers, top police officials, film and cricket celebrities, and hundreds of students took part. A few of them also spoke on the occasion.
The speakers pointed out that people's tendency to violate rules on the road is the main cause behind disarray in traffic management.
They stressed changes in the mindsets of all -- pedestrians, transport owners, workers -- to bring discipline on the road.
DMP, in association with some volunteer organisations, observed a special traffic week in August and a month-long awareness programme in September, after an unprecedented movement for road safety following the deaths of two students on July 29.
However, the situation remains almost the same.
Visiting city roads yesterday, this correspondent saw pedestrians crossing roads indiscriminately, only a few using footbridges and zebra crossings, while buses were not stopping at the DMP designated places to pick up or drop passengers and keeping their doors open in the middle of the roads, defying DMP directives.
Speaking at the awareness programme, Prof Dr Muhammed Zafar Iqbal said he had driven cars for 15 years in the US but is afraid to drive in Bangladesh because of the reckless way vehicles are driven here.
"The massive traffic on the roads is an indicator of the country's development….Now we have to bring the situation under control," he said.
Prof M Tamim of Bangladesh University of Engineering and Technology said the tendency of breaking laws possibly starts with the violation of traffic rules as it has been continuing over the years with impunity.
Architect Mobasser Hossain lauded the students who initiated the road safety movement and said they showed how to have separate lanes for ambulances and how to maintain lanes for rickshaws.
Popular film star Riaz recalled how his over-speeding bike caused a fatal accident early in his life and shattered his dream of becoming an Air Force official.
"My life changed and I do not want anyone to fall victim to any accident. We should all follow traffic rules," he said.
Cricketer Taskin Ahmed said, "Our parents are always concerned for our safety as accidents are happening frequently due to violation of traffic rules."
"Those who are behind the wheels have children too. You may accidentally kill others' children when violating traffic rules, but please consider your children have to go out to go to school or college…. It's very important to change ourselves." 
Sharing his experience of working with police, National Commissioner of Bangladesh Scouts Sarwar Mohammad Shahriar said the number of traffic police is very inadequate and it should be increased four times to handle the traffic situation.
Chairman of Bangladesh Bus-Truck Owners' Association Faruk Talukder Sohel said the awareness generating programmes have brought a change in the mentality of transport owners and workers, and there is no alternative to bringing discipline on the road. 
He proposed attaching rear-view mirrors to all rickshaws as indiscriminate lane change by the slow-moving vehicles lead to many road accidents.
A booklet titled "Traffic Guide Book" was unveiled at the programme.