Capturing imagination for over 50yrs
Though relatively smaller stall is situated in a far corner of the Suhrawardy Udyan, it is always swarmed by booklovers of all ages.
It has been more than fifty years, yet the appeal of books from Sheba Prokashoni has not diminished.
Enthusiasts of mystery, crime, thriller, spy, and suspense books were seen flocking the stall no 442-443 yesterday.
Even the parents, after letting their children enjoy at "Shishu Prahar" (Children's Hours), were seen rushing to the stall to relive their childhood memories.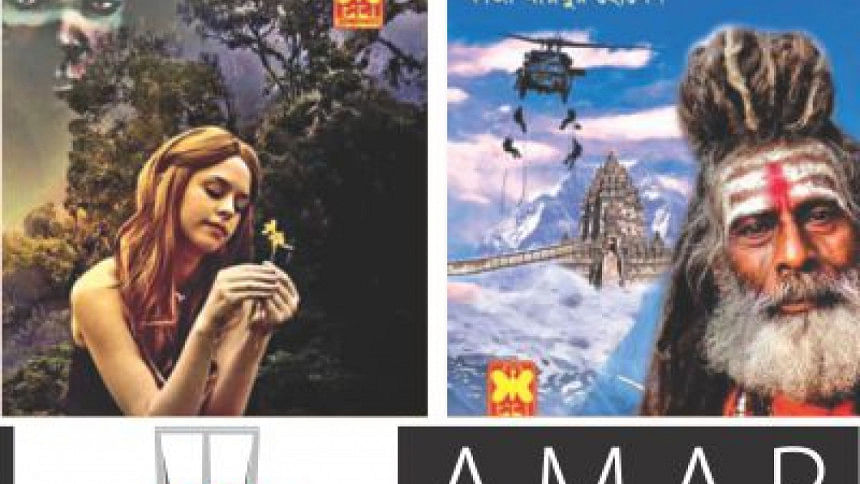 None of the bookworms were seen leaving the stall without buying Sheba's iconic paperbacks in newsprint.
This correspondent met Nayan Siddique carrying around 30 books. When asked, he said, "I bought some juvenile classics and detective novels for my son. Since childhood I used to read their (Sheba) books. Now my son has become a fan," said the proud father.
His son Ferdous Siddique, a fifth grader at Dhaka Residential Model College, said, "I was eagerly waiting for the book fair to collect the volumes of 'Tin Goyenda' (three detectives). I also bought classics by Jonathan Swift and Mark Twain."
Many were seen buying "Tin Goyenda" a detective series created by Rakib Hasan. Based on English detective novels, the story of three ordinary teenagers -- Kishore, Musa and Robin, also detectives, is still loved by all.
One of the main attractions of the stall is "Masud Rana", one of the most beloved characters created by Sheba Prokashoni founder Qazi Anwar Hussain. The first story of Masud Rana was published in 1966.
The 81-year-old author has written the 450th edition of the series of "Masud Rana" titled "Mastermind" which arrived this month. Rana, a valiant Bangladeshi spy, who travels the world on secret missions, has been enthralling the readers for over 50 years.
Maisha Samiha, a student of Military Institute of Science & Technology, and her friends kept the staff of the stall busy by inquiring about books all at the same time.
She bought Agatha Christie's "Guptochor" and "The Sword of Islam" by Rafael Sabatini for herself and a volume of "Tin Goyenda" for her friend's sister. 
Expressing satisfaction, Mominul Islam, a Sheba staff member, said, "Though we are all the way at the corner, visitors still come here to buy books. We also bring out around five books every month through the rest of the year."
Agatha Christie's "Serial Killer", "Guptachar" and "Benami Chithi" just arrived at the stall and are in high demand. Booklovers are also buying Henry Rider Haggard's "The Ghost Kings".
Meanwhile, detective novels are also available in other stalls. Merit Fair Prokashani brought out seven volumes of "Kishore Goyenda Samagro" by Rakib Hasan.
Satyajit Ray's Feluda and Sir Arthur Conan Doyle's Sherlock Holmes were also attracting young readers.
On the 11th day of the book fair, 201 books arrived and 62 were unveiled.