Draft BSTI law: 2yr jail for marketing goods without licence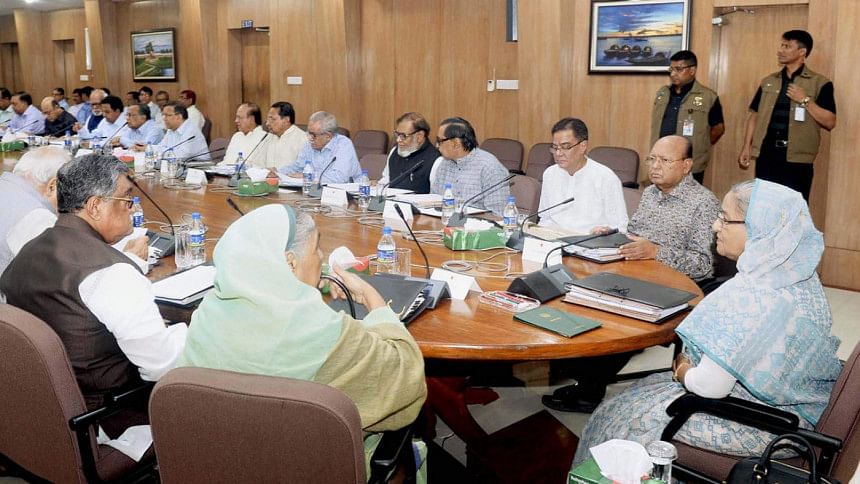 The cabinet today approved in principle the draft of 'The Bangladesh Standards and Testing Institution (BSTI) Act-2016' aiming to updating and standardising the existing law and to make it more time befitting.
As per the proposed law, if anyone produces and markets goods without having BSTI license would face two years jail and fine of Tk one lakh, Cabinet Secretary M Shafiul Alam told reporters after the meeting at Bangladesh Secretariat.
The draft law has been modified incorporating new ideas and standardising the existing law in line with the international standards, the cabinet secretary said.
The cabinet also approved a draft agreement under which Bangladesh and Malaysia will set up 1320 mega watt capacity ultra super critical coal-based thermal power plant at Moheshkhali in Cox's Bazar under a joint venture.
As per the agreement, the power plant would be set up under a fifty-fifty joint venture initiative between Bangladesh Power Development Board (BPDB) and Consortium of two Malaysian companies-Tenaga Nasional Berhad and Powertek Energy Sdn, Bhd.
The cabinet also approved the draft of the 'Bangabandhu National Agriculture Award Trust Act-2016', 'Bangladesh Patent Act-2016', 'Bangladesh Wheat and Maize Research Institute Act-2016', and 'Bangladesh Atomic Energy Commission Act-2016'.
It also approved a proposal for signing agreements between Kuwait and Bangladesh for the deputation of Bangladesh armed forces to the State of Kuwait and mutual exemption of prior entry visa for holders of diplomatic, special and official passports'.
It also approved a proposal for signing an agreement between Bangladesh and Saudi Arabia on the cultural cooperation.
At the meeting, Finance Minister AMA Muhith handed over the PM a crest with two specimen copies of newly introduced 5-taka note.
Agriculture Minister Matia Chowdhury also handed over the PM the 14th Edition of the Islamic Development Bank Prize for Science and Technology.