Aniruddha blames partner for abduction
Businessman Aniruddha Kumar Roy, who returned home on Thursday after two and a half months of his abduction from Dhaka's Gulshan area, today issued a statement saying he was a victim of business rivalry.
Blaming his business partner Mohiuddin Ahmed Mahin for his abduction, Aniruddha, managing director of RMM Group, said Mahin and his people had abducted him on August 27 afternoon in a bid to take over three firms established by him.
Read More: Aniruddha returns home 
However, Mohiuddin has denied the accusations made against him and termed them as baseless and fabricated.
The statement undersigned by Aniruddha reads that the incident took place when he was returning from a meeting with Union Bank in the capital's Gulshan-1 area.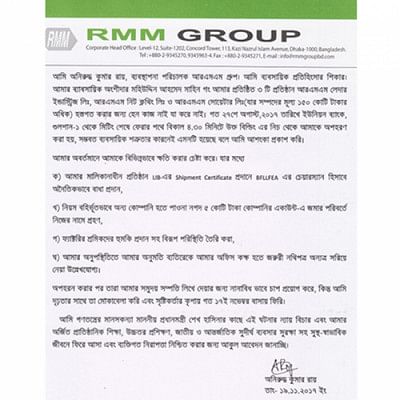 The businessman also alleged that in his absence, his partner had tried to harm his business ventures in many ways, including depositing Tk 5 crore to his own bank account instead of the company's account, and removing important documents from his office room, among others.
Aniruddha also alleged that his partner had pressed him to name all his properties for Mahin.
However, he managed to return home by the grace of Almighty, Aniruddha said.
He pledged to Prime Minister Sheikh Hasina to intervene and take necessary steps to ensure his justice and security.
Meanwhile, talking to The Daily Star, Mohiuddin Ahmed Mahin has said he was not involved in the abduction of Aniruddha and denied the accusations made against him.
"The accusations made against me are completely baseless, fabricated, and motivated in order to socially harass me," Mohiuddin said.