Tabligh-Jamaat demo halts Dhaka traffic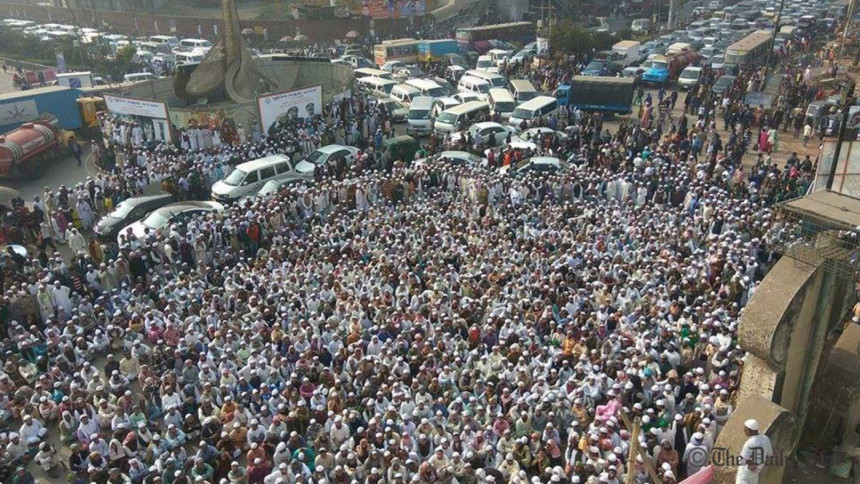 A section of Tabligh-Jamaat men blockaded the Airport Road in Dhaka today protesting arrival of a top religious scholar from India causing a severe gridlock on the city roads.
Indian Tabligh-Jamaat Scholar Maulana Saad Kandhalvi reached the Dhaka airport by a Thai Airways flight around 12:30pm to attend the Biswa Ijtema, Nure Ajam Miah, officer-in-charge (OC) of Airport Police Station, told The Daily Star.
Protesting his arrival, several thousands of Tabligh-Jamaat men gathered in front of the entrance of Hazrat Shahjalal International Airport around 10:00am for his "controversial comments", police said.
Later, the agitating people blocked the Airport Road resulting a severe traffic jam on Dhaka-Mymensingh Highway and different connecting roads in the capital, reports our correspondent from the spot.
The Tabligh-Jamaat men left the area around 4:30pm saying that they would declare their next course of action after having talks with their leaders, the police official added.
Later, Kandhalvi was taken to Kakrail Mosque under police escort and he was staying at the mosque till filing the report, the police official said.
The 53rd Biswa Ijtema, the second largest congregation of the Muslim community after the holy hajj, will be held in two phases from January 12-14 and January 19-21 on the bank of the river Turag amid tight security.