Road Transport Act: Public transport sparse in Dhaka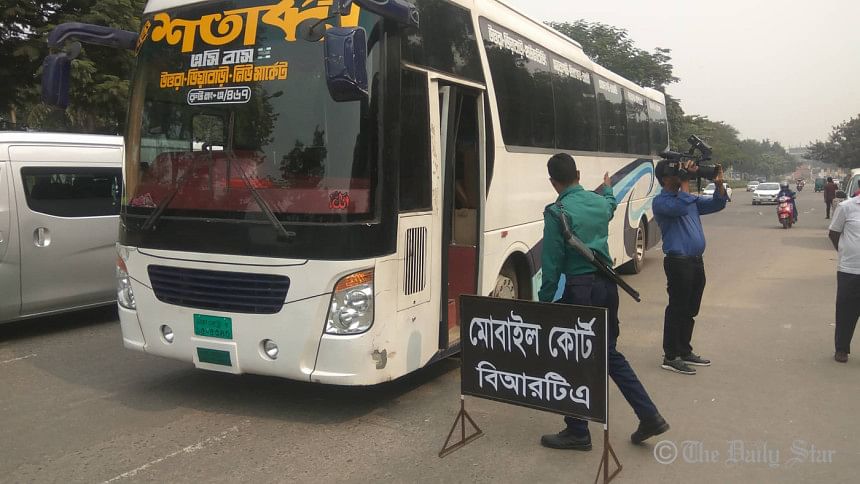 Dhaka saw a very low turnout of public transport today as transport workers abstained from bringing their vehicles out following the drive of BRTA mobile courts being carried out to ensure implementation of the new transport law.
The lack of transportation was a result of a "rumour" that spread in the morning, Mahbubur Rahman, organizing secretary of Dhaka Road Transport Owners' Association told The Daily Star.
A "rumour" spread among the transport workers that mobile courts across the capital were fining Tk 25,000 each vehicle for running without valid documents, he said.
So, a huge number of vehicles without fitness certificates and drivers without licences did not bring out their vehicles in a bid to avoid getting fined, the organising secretary added.
But situation was getting normal around the noon as the workers came to know that Tk 25,000 fine was a rumour, he further said.
In the meantime, commuters were facing immense sufferings due to lack of vehicles as Dhaka was much emptier than other office days.
Hardly any public vehicles other than those of BRTC could be seen plying the roads between Saat Rasta intersection (Shaheed Tajuddin Ahmad Sarani) and Gulistan around 11:00am, our staff correspondent reports.
A public service holder who commutes from Mirpur's Shewrapara to Farmgate on a daily basis said there were very few public transportations available today.
The few buses which were found at Shewrapara were packed with passengers and he could not find a seat, he added.
Finally, he had to take a CNG-run autorickshaw but the driver demanded higher than usual fare.
Another commuter who came to Farmgate from Palashi intersection said it took him much less time to reach office today as the "the roads were as empty as those on Eid day".
The new law, with increased fines for traffic offences, was supposed to be put into effect on November 1. But it was delayed as transport associations had allegedly been lobbying against it.
Although central leaders of transport owners and workers associations said they did not instruct their units to go for the strike, many workers observed work abstention.