Taher, Nani implicated in Netrakona freedom fighter murder again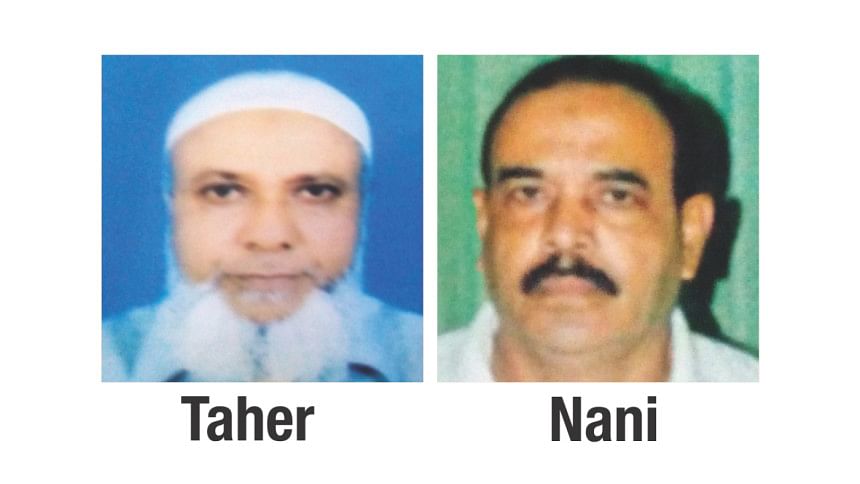 A prosecution witness yesterday corroborated testimonies of previous witnesses that Obaidul Haque Taher and Ataur Rahman Nani killed freedom fighter Dabir Hossain in Netrakona town during the Liberation War in 1971.
Maksuda Hossain Ava, Dabir's younger sister and the 15th prosecution witness in the case, told the International Crimes Tribunal-1 that her father requested Taher's father for Dabir's release but to no avail. Maksuda, who also trained for the Liberation War, said she heard about their involvement in her brother's abduction and murder from several witnesses. Earlier, Abdul Hamid and Abu Bakar Siddique, the 13th and 14th prosecution witnesses in the case respectively, also linked them in the killing on October 4, 1971.
Taher and Nani face six charges. They, however, pleaded not guilty before the tribunal.
Maksuda, who was in class X in 1971, said her brother was involved in Chhatra League politics and became a target of the anti-liberation force as he burnt a Pakistan flag following the March 7 speech of Bangabandhu Sheikh Mujibur Rahman. At one stage of the war, her two brothers went to India's Meghalaya to train and   later they took part in the Liberation War, said the 59-year-old witness. When Dabir was coming to Dhaka to meet their sick mother, Taher, the commander of Razakar Bahini in Netrakona, Nani and a group of armed Razakars detained him at Barhatta Road of on October 4, she said. They tortured him and took him to an army camp at a local rest hous,, she added.
Later, they learnt that Taher and Nani tortured Dabir and shot him dead near Moktarpara Bridge on that night, she said. Maksuda will face cross-examination tomorrow.