AL, BNP men's joint grabbing of Kuakata Rakhine land protested
Grabbers are siblings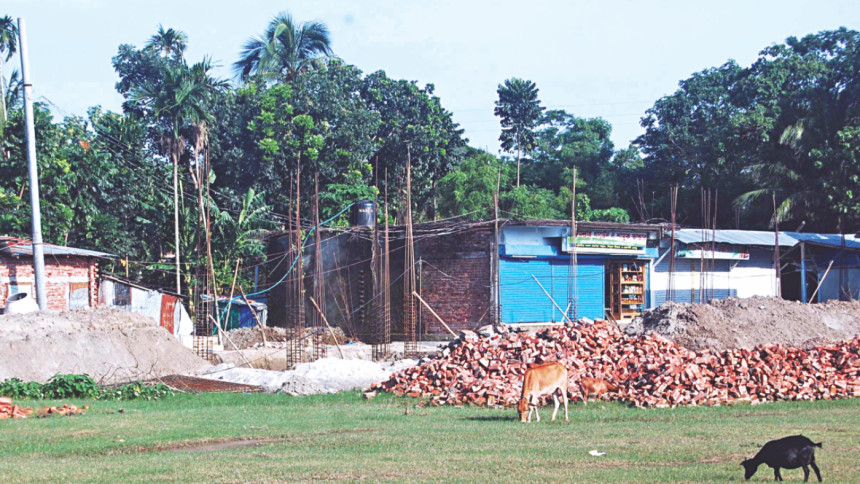 Two brothers who are leaders of the ruling Awami League and the BNP have allegedly grabbed a piece land of indigenous Rakhine people in Kuakata tourist zone in Patuakhali, triggering protests.
The siblings are constructing a market encroaching upon Rakhine Women's Market, which is close to the scenic Kuakata beach in Kalapara upazila.
Indigenous people staged protests both in Kuakata and the capital.
Addressing a rally in front of the National Museum in Dhaka, indigenous leaders said Monir Ahmed Bhuiyan, general secretary of Kuakata Municipality Awami League, and Babul Bhuiyan, joint convener of Kuakata Municipality BNP, are erecting "Bhuiyan Market" on the Rakhine's land.
Representatives from different organisations of indigenous communities including Bangladesh Rakhine Students Union, Bangladesh Adivasi Union, Bangladesh Rakhine Student Council, and Metropolitan Hajong Welfare Samity joined the protest, organised by Adivasi Kalyan o Unnayan Sangstha (AKUS).
Luma Rakhine, president of Kuakata Rakhine Women's Market, said 25 Rakhine family donated 80 decimals of their land to the district administration on the direction of then Prime Minister Sheikh Hasina in 1999 for the development of the livelihoods of the indigenous community.
Later the administration built 14 tin-roof concrete shops on the south of the land turning it into Rakhine Women's Market and a big concrete platform on the west, she said, adding that most of the remaining land was open, where different cultural programmes were organised.
Luma said the two influential brothers had long been trying to grab a part from the east side of the market. Early this month, they started building Bhuiyan Market on around five decimals of the market land, she added.
The Rakhine people filed a complained with the district administration on July 7, she said.
Jahangir Hossain, upazila nirbahi officer (UNO) of Kalapara, said there was a dispute over the ownership of the land as both the Rakhine and Monir Ahmed and his brother claimed the land to be theirs.
"After getting the complaint we halted the construction work of Bhuiyan Market on July 8," he added.
The UNO said none could construct anything without the permission of Kuakata Development Authority headed by the deputy commissioner, and Monir did not take any permission.
"We will settle the matter after Eid-ul-Fitr measuring the land," he said.
Monir Ahmed claimed that it was their property and they took permission of Kaukata Municipality.
Luma Rakhine, however, feared that the two might resume the construction work.
The construction was halted when the foundation works were under way.
(Our Patuakhali correspondent contributed to the report)