9 Bangladesh militants killed in overnight Dhaka raid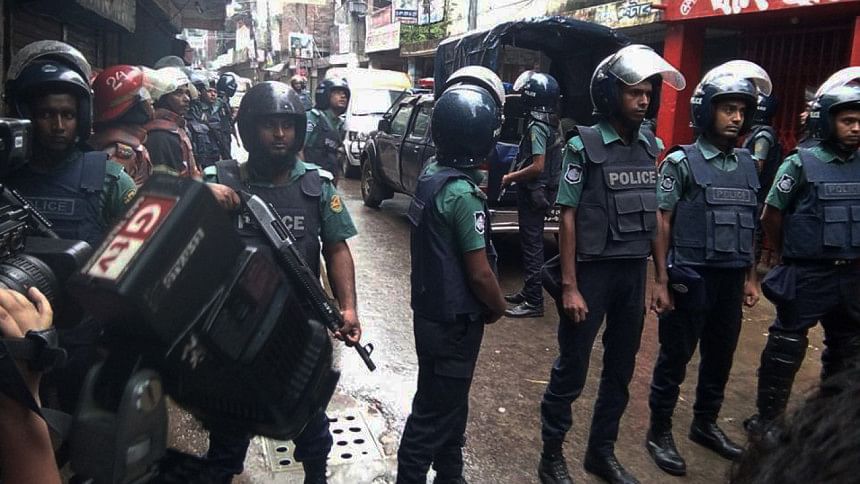 Nine alleged militants were killed this morning during a special drive of the joint forces in Dhaka's Kalyanpur, ending an overnight standoff that ensued with a raid to hunt down "militant den".
- SWAT, Rab, DB, cops conduct operation 'Storm 26'
- All JMB militants, says police chief
- Detained militant claims himself 'IS operative'
- Bodies sent to DMCH morgue for autopsy 
SWAT, Rapid Action Battalion (Rab), Detective Branch of police (DB) and Dhaka Metropolitan Police (DMP) jointly carried out a one-hour operation "Storm 26" from 5:51am.
"We neutralised nine militants in the operation," Sheikh Maruf Hassan, DMP's additional commissioner, told media on completion of the operation.
The bodies were taken to Dhaka Medical College Hospital morgue for autopsy around 5:00pm. 
READ MORE: Terror Strikes Dhaka
One militant was detained from the spot with bullet injuries and taken to Dhaka Medical College Hospital. He claimed to be a member of the Islamic State, DMCH police camp sources said.
Inspector General of Police AKM Shahidul Haque, who visited the scene, told reporters that these militants had black outfits similar to those Gulshan cafe attackers were wearing.
"The detained person claims to be an IS member, but we think they are of the banned militant outfit Jama'atul Mujahideen Bangladesh (JMB)," he added.
On July 1, gunmen killed 20 hostages, mostly foreign nationals, at an upscale eatery Holey Artisan Bakery in the capital's diplomatic zone in a 12-hour siege.
Police believe the attacks on the Gulshan restaurant and Sholakia Eidgah were both carried out by JMB militants who were trying to wield the emblem of the Islamic State.
CRACKDOWN IN KALYANPUR, OPERATION 'STORM 26'
Mirpur police and Rab carried out the primary crackdown in the multi-storied "Jahaj Building" on road No. 5 at Kalyanpur around 12:45am, our correspondent reports from the spot.
The militants said to have hurled handmade bombs at the law enforcers, who in retaliation, fired several rounds. The occupants of the building and adjacent ones were evacuated overnight.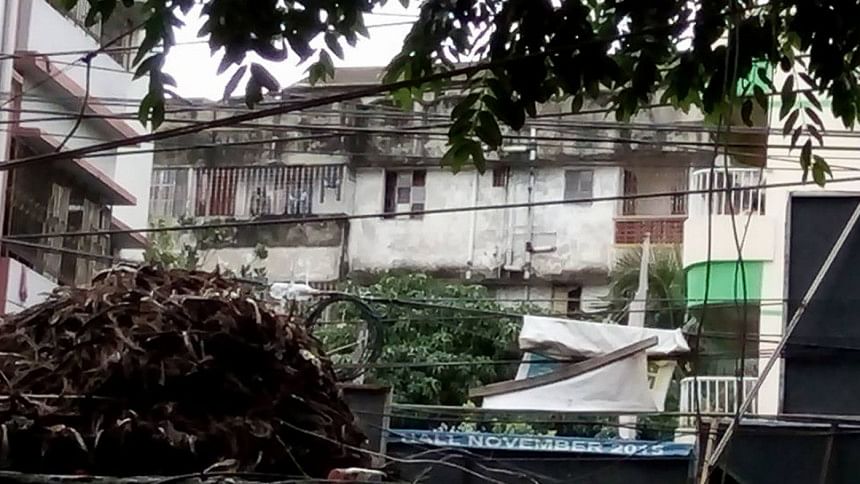 "We took time to evacuate the residents," police's Additional Commissioner Maruf Hassan said.
The militants were holed up in the fifth floor of the building. Police said they had rented the flat and were living there.
Several hundred bullets were heard to have been fired during hour-long operation "Storm 26". Nine alleged militants were said to have been killed at the spot.
Last reported, police had cordoned off the area and were going through the building. A team of bomb-neutralising squad was defusing some handmade crude bombs in the building.
HELD 'MILITANT' CLAIMS ISLAMIC STATE LINK
The alleged militant who was held with bullet-wounds from the scene was identified as Hassan, hailing from Bogra. He claimed to be a student of Bogra's Government Shah Sultan College.
Hassan had a bullet injury and a fractured left leg, Sentu Chandra Das, an assistant sub-inspector at DMCH police camp, told The Daily Star.
The detainee told doctors that he along with ten others live on the fourth floor of the building from where he jumped off sensing presence of police.
Conversing with the DMCH doctors, he claimed that he was the cook of the militants living in "Jahaj Building". There were heavy arms and explosives inside the flat, Hassan added.
He told them that he was an operative of the Islamic State. Bangladesh's police chief later said he was more likely to be a JMB operative – those who carried out Gulshan and Sholakia attacks.
DETAINEE IDENTIFIES 8 'MILITANTS'
Identities of eight of the nine suspected militants, who were killed have been confirmed, UNB reports quoting the detainee Hassan.
They were Robin, Ovi, Sabbir, Atik, Sohan, Imran, Taposh and Iqbal.
Hasan said that he had been living with them in the building for the last one year where he worked as a cook. However, police did not reveal anything about the deceased militants.