7 took part in Kalabagan twin murder: Guard
Detectives to investigate the killing cases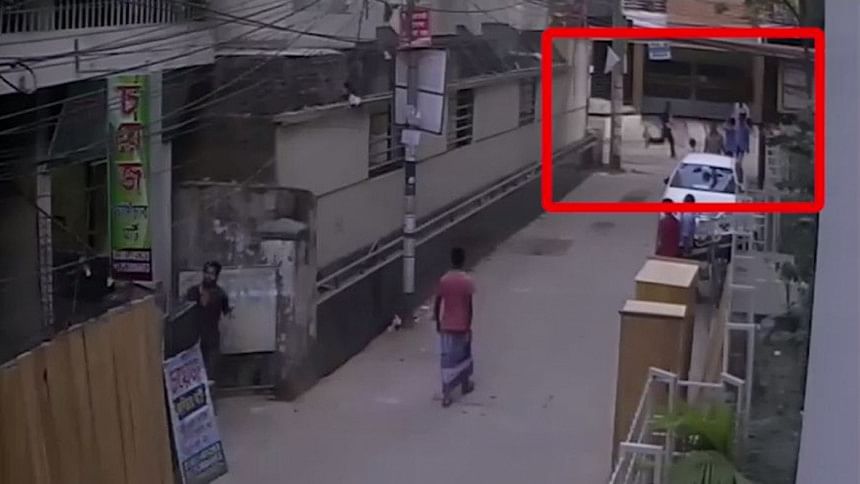 Seven people took part in the killing of LGBT magazine editor Xulhaz Mannan and his friend Mahbub Tonoy on Monday evening, according to a security guard who was also injured in the attack.
Of them, four entered the flat and directly took part in the mission while three others held the caretaker and another guard captive in a room on the ground floor, Parvez Mollah, a security guard of Xulhaz's residence, told reporters today.
All the attackers, aged between 20 and 30 years, were in blue dresses, Mollah said while talking to the journalists at Kalabagan house where Xulhaz and Tonoy were murdered.
READ MORE: 2 hacked to death in Dhaka flat
All identified themselves as employees of a courier service and said they had two packages to deliver to Xulhaz, he said.
When Parvez was going upstairs to Xulhaz's flat, four of them forcibly entered the apartment building. Meanwhile, Xulhaz opened the door as the guard asked him about courier.
Parvez then told the four killers to leave the building as Xulhaz was not expecting a parcel delivery.
"The killers who were carrying two parcels suddenly took the machetes out of their bags and attacked me, injuring my left arm and my left eye." 
ALSO READ: Ansar Al Islam claims responsibility
"As I was screaming and heading downstairs I saw them entering his flat and attacking Xulhaz and Tonoy," he said. 
Later, locals found both Zulhaz and Tonoy lying in a pool of blood, he added.
Unidentified assailants on Monday hacked to death Xulhaz and his friend Khandaker Mahbub Rabbi Tonoy in the flat in the capital's Kalabagan area.
Xulhaz, 35, was a Political Process Analyst at USAID. He was also an editor of "Roopbaan," the country's only known magazine for the LGBT (lesbian, gay, bisexual and transgender) community.
READ MORE: Condemnation pours in from across the world
Ansar Al Islam or Bangladesh branch of al-Qaeda in the Indian Subcontinent (AQIS) yesterday claimed responsibility for the murder of LGBT magazine editor and his friend, according to US-based monitoring agency SITE Intelligence Group. 
The outfit had earlier "claimed credit" for the murders of secularist bloggers and online activists Niladri Neel, Ananta Bijoy Das and Nazim Uddin Samad and publisher Faisal Arefin Dipan.
Meanwhile, Detective Branch (DB) of police is assigned to investigate the two cases filed over the twin murder, said Maruf Hossain Sorder, deputy commissioner (media) of Dhaka Metropolitan Police.
Two cases, one by family over the murders and the other by police for assaulting a cop, were filed yesterday with Kalabagan Police Station.
Minhaj Mannan, elder brother of slain LGBT magazine editor Xulhaz Mannan, filed the case against unknown killers.
The second case was filed by Shamim Ahmed, a sub-inspector of Kalabagan police, suing some unknown assailants over the machete attack on Assistant Sub-inspector Momtaz at the crime scene.