2nd phase of Biswa Ijtema underway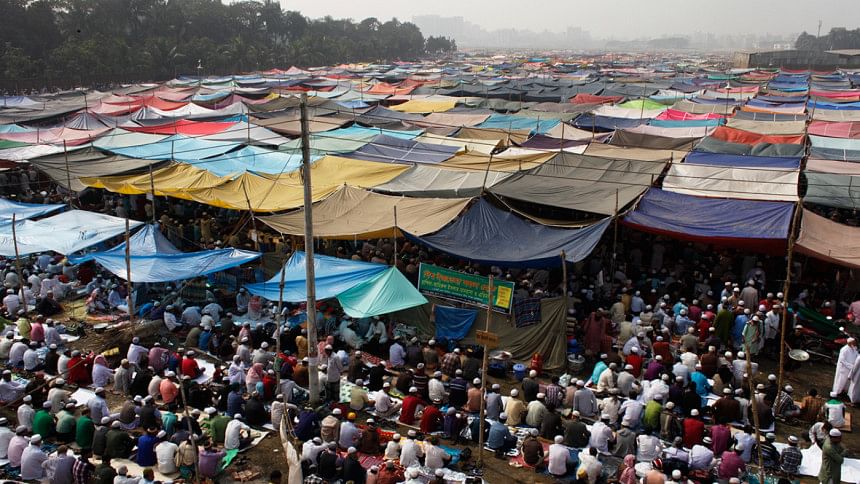 The second phase of Biswa Ijtema, the largest congregation of the Muslims in the world, is continuing today amid sermons being delivered in Tongi on Dhaka's outskirt.
The three-day congregation began on the bank of the Turag River after Fazr prayers on Friday.
Tens of thousands of devotees, both from home and abroad, are converging on the congregation venue and attending the prayers with reciting the names of Allah and hearing the sermons.

Also READ: Second phase of Biswa Ijtema begins

Maulana Mohammad Khorshed of India delivered sermons after Fazr prayers while Maulana Sakib Hossain of Bangladesh translated those into Bengali.
The second phase of Ijtema will end tomorrow (Sunday) with Akheri Munajat (concluding prayers).
Meanwhile, a devotee died of old-age complications at the Ijtema venue on Thursday night.
The deceased identified as Abdur Rahman, 60, hailed from Bogra.
Devotees from 16 districts, including Dhaka, Jhenidah, Thakurgaon, Jamalpur, Faridpur, Netrakona, Narsingdi, Comilla, Kurigram, Rajshahi, Feni, Sunamganj, Bogra, Khulna, Chuadanga and Pirojpur are attending the 2nd phase Ijtema.
A large number of law enforcement agency members remained deployed in Tongi to ensure foolproof security to the Ijtema devotees.
Earlier, the first phase of the three-day Biswa Ijtema, organised by Tabligh Jamaat, was held on January 8-10.
Ijtema is being held in two phases from 2012 to ease accommodation problem.