2nd Nat'l English Carnival ends
Notre Dame College organised it, supported by The Daily Star with assistance from Bank Asia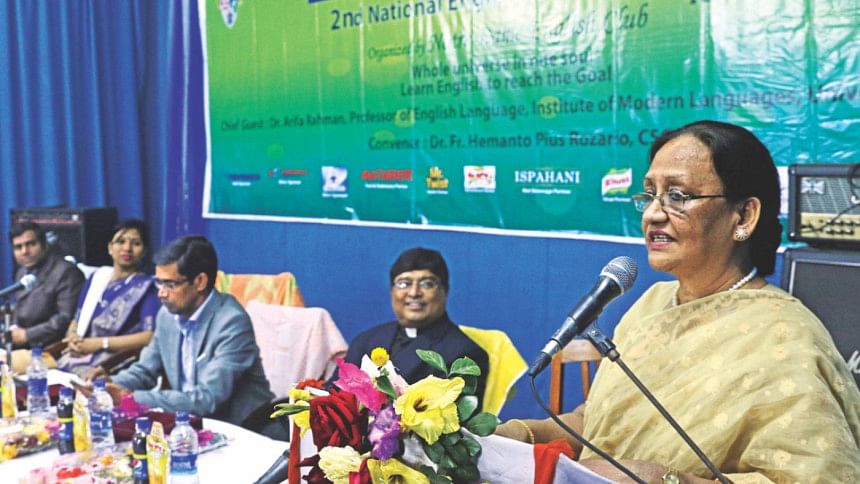 Second National English Carnival 2016, a language competition, ended in the capital's Notre Dame College yesterday with  a prize giving ceremony.
Seventy nine students were awarded at the event in the first, second, and third grades in eight categories, including spelling master, intensive reading, recitation, story writing, extempore speech, multimedia presentation, and wall magazine submission.
Supported by The Daily Star,, the event, which started on Thursday, was organised by Notre Dame English Club with the assistance of Bank Asia.
As many as 1,300 students of primary, secondary, college and university levels from 120 institutions participated in the event titled "Whole Universe is One Soul, Learn English to Reach The Goal".
Prof Arifa Rahman of the Institute of Modern Languages of Dhaka University, who was present as the chief guest, highlighted the ever increasing demand for English competence and the need for treating English not as a mere subject but as a set of skills to be used in real life. She said the arrangement of the 3-day programme was a very positive step towards providing opportunities to young students and to involve them in a number of fun language activities.
Dr Hemanto Pius Rozario, principal, Notre Dame College; and Md Arfan Ali, additional managing director, Bank Asia, also spoke.