19hrs blaze melts 7-storey Gazipur textile mill
Factory shut; Tk 1.75cr in cash burnt to ashes, claims official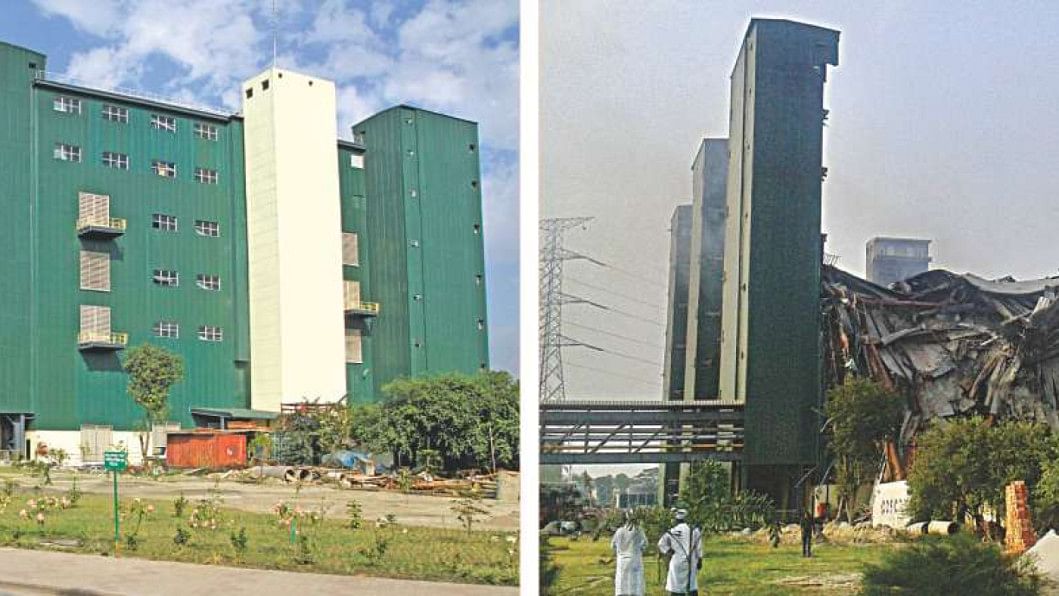 7-storey steel-framed building of Dignity Textiles Mills Ltd at Sreepur upazila in Gazipur totally collapsed yesterday due to the devastating fire that was brought under control after 19 hours.
A huge amount of thread, cotton, cloth and equipment along with the building built on about 33 decimals of land was totally damaged, Md Moniruzzaman, an engineer of Dignity Textiles, told The Daily Star.   
He claimed that Tk 1.75 crore in cash, out of Tk 2 crore, which was being distributed among the workers as their monthly salary, was also burnt to ashes during the fire.   
Sreepur Upazila Nirbahi Officer Sadekur Rahman who is leading a 5-member probe body to investigate the fire incident, told The Daily Star that they could not estimate the loss caused by the blaze till filing of this report last night.
Meanwhile, the textile mills authorities yesterday declared the factory shut till June 7 and asked the workers to come to it on June 8 to know about the decision on its resumption.   
The fire originated on the third floor around 1:45pm on Sunday and was brought under control at 9:00am yesterday but the steel-frame building totally collapsed at 11:00am.
The cause of the fire could not be known but fire officials suspect that it originated from an electric short circuit.
There were flammable products on all floors, Director General of Bangladesh Fire Service and Civil Defence Brig Gen Ali Ahmed Khan had said earlier.
Administrative Manager of the factory Nazmunnahar Kemi claimed that all workers were outside the building on lunch break.
Around 3,000 people work at knitting, dyeing, cutting, finishing and other sections of the composite factory, owned by Deel Hue, a national of Mauritius.
Fire officials said the flames were sweeping up to the top floor of the seven-storey steel building and 14 fire fighting units, tackling the fire, were facing difficulties as they could not go near the building due to excessive heat and the boundary wall was too strong to be bulldozed.