Level crossing or death trap?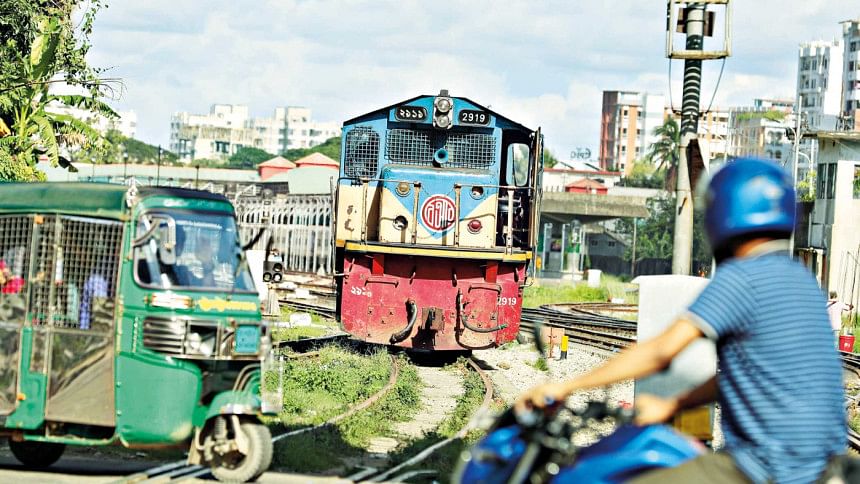 Railway has to construct overpasses at the major level crossings in the built-up areas of the country. The presence of gatekeepers has to be ensured at points, where building an overpass is not feasible.
Pintu Das (41), a labourer in the port city's Aturar Dipu area, was killed by a speeding train while crossing the railway tracks near Pahartoli Railway Station on July 29.
Like Pintu, many people, including office-goers, tourists and dwellers of informal surrounding settlements, often fall victim to such fatal accidents while crossing the tracks.
The country witnessed one such deadly accident recently on July 29, in Baratakia of Chattogram's Mirsharai, where a collision between a train and micro-bus left at least 11 people dead and multiple injured.
According to Bangladesh Railway, 221 people died in railway accidents from 2014 to 2021. Of them, 187 people died in level crossing accidents.
"Many informal and resettlement colonies are located near railway tracks. A majority of the residents prefer walking to their workplace by crossing the tracks. Often, their unmindfulness becomes the end of them," said Ansar Ali, divisional traffic office (DTO-acting) of railway in Chattogram.
Railway data suggest that the total number of railway crossings across the country is 2,561. Among them, 1,321 are not approved, while 82 percent of these crossings are unprotected.
Officials and experts have identified the shortage and negligence of gatekeepers, unplanned level crossings, illegal movement of pedestrians on rail tracks, and negligence of the drivers (both locomotive and vehicle drivers) as the main reasons behind such accidents.
"It is not possible to post gatemen at all level crossings due to fund constraints and other reasons," said an official, requesting anonymity.
According to railway data, it spent Tk 196 crore to make railway crossings safe since 2015.
Under two projects, 702 railway level crossings have been developed in the whole country, while 1,532 guards have been appointed.
The projects also include the installation of barriers and the construction of guard houses for maintaining these level crossings.
But many of the crossings are yet unsafe for commuters even after the development.
"If the locomotive driver spots someone on the tracks from a distance, he can somehow manage to apply the brakes. However, it is not possible if the person appears suddenly while the train is at a high speed," said Omar Faruk, a railway loco-master.
According to the Railway Act 1890, walking on the tracks is a punishable offence with two years of imprisonment.
However, pedestrians are seen using the rail tracks as walkways and this has increased the number of accidents, said Abul Kalam Chowdhury, divisional railway manager (DRM) of Chattogram.
"Pedestrians prefer to get down on the tracks and cross over to save time and cut the distance. Despite repeated announcements at the stations asking people to clear the way and not walk on the tracks, commuters refuse to follow the rules," he added.
"The railway authorities should take strong steps to stop setting up more illegal level crossings. It is not only a major cause of deadly accidents but also interrupts regular train speed," said Subash Barua, a transport expert.
"Railway has to construct overpasses at the major level crossings in the built-up areas of the country. The presence of gatekeepers has to be ensured at points where building an overpass is not feasible," he added.
Meanwhile, railway police filed a case against gateman Saddam and detained him from Baratakia area on Friday in connection with the accident.  A Chattogram court sent accused Saddam to prison, while the railway authority suspended him for his negligence in duty.
Earlier, railway formed a five-member committee to investigate the cause of the accident. It was directed to submit its report within the next seven working days.
The committee started its work on Saturday. The committee members have also held a meeting, said Ansar Ali, committee convener and divisional transport officer of Bangladesh Railway in Chattogram.
"The reasons behind the incident are being investigated, and action will be taken against those involved as per the investigation report," Abul Kalam Chowdhury, divisional railway manager in Chattogram, told this correspondent.