Deshi Ballers' five-year celebration basketball tournament ends at IUB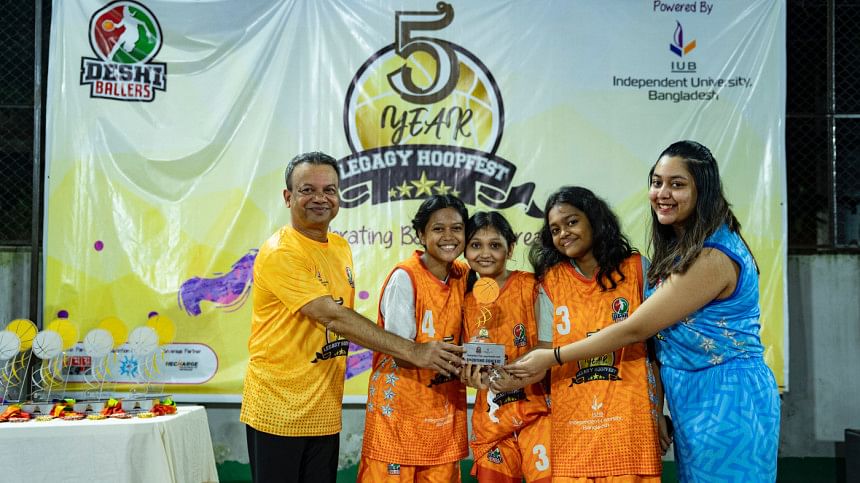 Deshi Ballers, pioneers in promoting women's basketball in Bangladesh, marked an exhilarating milestone as they celebrated their fifth year in action at the "5 Year Legacy Hoopfest Powered by IUB" held on September 29 and 30. The event, hosted at the renovated Sports Complex of Independent University, Bangladesh (IUB) in Bashundhara Residential Area in Dhaka, showcased an adrenaline-fueled basketball weekend that captivated enthusiasts and spectators alike.
In the U18 Girls category, Growing Up Club clinched the title while Aeros became champions In U18 Boys, Airheads in All Age Girls, Josephites in All Age Boys, and Crystal in Co-ed. Over 200 players, including school, college and university students from all across the country, divided into 41 teams took part in the 2-day tournament, more than half of whom were female. 
The tournament also featured several international basketball players, including the current and former captains of the Bangladesh national men's and women's basketball teams. Grameen Danone and Recharge were the event's nutrition and beverage partners respectively.
IUB Vice Chancellor Tanweer Hasan, PhD; Jahanara Alam, Captain of the Bangladesh Women's National Cricket Team; and Mushfiq Hassan, Student Adviser and Outreach Coordinator, US Embassy Dhaka attended the final day of the event and gave away the awards among the winners and participants. 
"Quality of student life is a priority at IUB. Sports and physical well-being are essential aspects of that. Witnessing the enthusiastic turnout of so many young people for this tournament brings me immense joy and excitement. I extend my commendations to Deshi Ballers for orchestrating this event, with a special emphasis on encouraging participation from girls and women in the sport. IUB remains dedicated to supporting future tournaments of this kind, fostering and motivating young athletes," said Tanweer Hasan. 
"I am very happy to see the turnout and enthusiasm of women athletes in Basketball. Deshi Ballers deserve a genuine pat on the back for giving this platform to the girls to get engaged in this sport," said Jahanara.
"A tournament's true success shines when players refuse to leave even after the event is over. Our Hoopfest was a testament to this spirit. With 51% of the participating athletes being women, we're not just representing, we're highlighting. Female referees officiating the U18 girls' games and the support of a female cricketer remind us that women need to uplift women. Together, we're forging a future where women get equal opportunities in sports. We're thankful for IUB's support in this journey," said Ashreen Mridha, Co-founder of Deshi Ballers.