AWS Startup Day Bangladesh 2023 to be held on October 5 for the first time in Bangladesh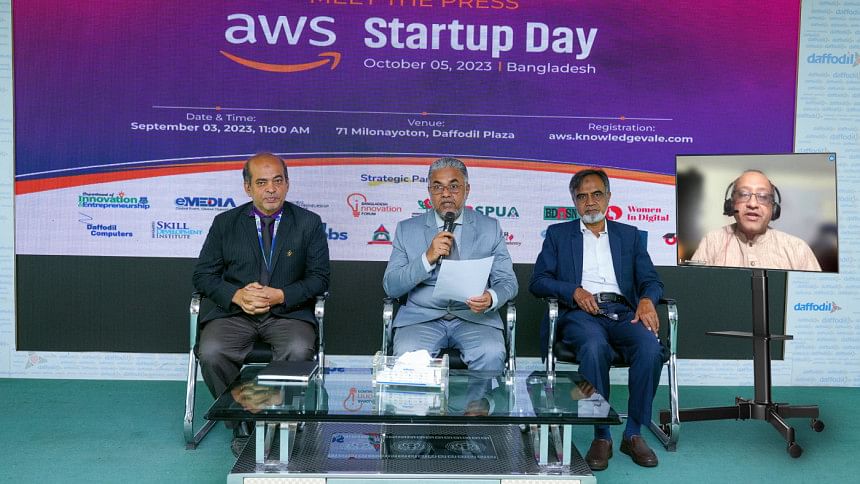 Amazon Web Services Startup Day Bangladesh 2023 is being organised for the first time in Bangladesh on October 5. The day-long program will teach hands-on how to transform a startup design into a billion-dollar company using the Amazon Web Services (AWS) platform.
This is an immersive all-day event aimed at Students, Startups and Entrepreneurs in Bangladesh who aspire to build the next billion-dollar company. It's a journey into innovation and collaboration, designed to shape the next generation of pioneering companies. Through immersive workshops, attendees will gain practical knowledge on harnessing the AWS platform's potential for cloud-native applications, software as a service, analytics, and machine learning. This event offers the chance to connect with industry experts, foster valuable connections, and equip yourself with the tools to propel your startup to remarkable success.
All these were informed in a "Meet the Press" program organised in auditorium 71 of Daffodil Tower. Mohammad Mahdi-Uz Zaman, Leader of Amazon Web Services, Solution Architecture, Startups, Dr Mohammad Nuruzzaman, CEO, Daffodil Family, Md. Anowar Habib Kazal, Senior Assistant Director (PR) of Daffodil International University, and Md. Jahir Uddin, Managing Director, Bangladesh Venture Capital Ltd.   Spoke in the program to journalists and media representatives in detail about the event.