Three Bangladeshis receive IVLP Impact Award 2022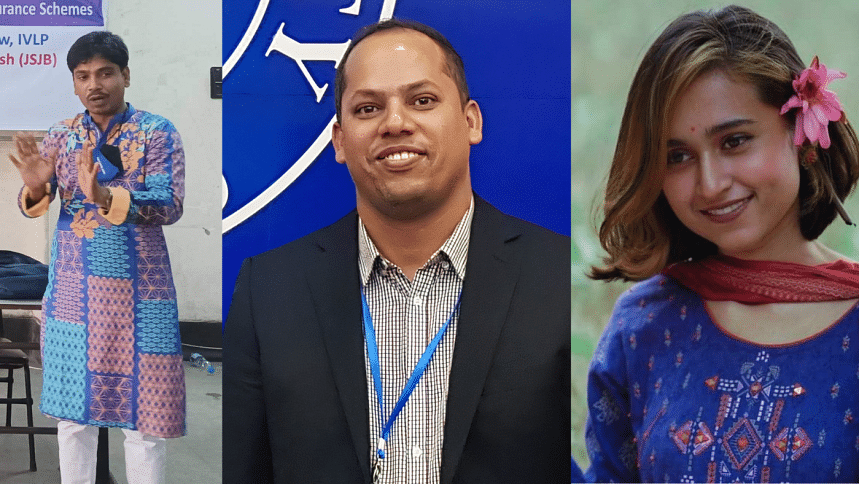 Three Bangladeshis, Mohammad Abdus Salam, Dr Nurul Huda Sakib, and Lamia Tanjin Tanha have received the IVLP Impact Awards 2022. 
The International Visitor Leadership Program (IVLP) Impact Awards Initiative (IIA) is an initiative by the U.S. Department of State's Bureau of Educational and Cultural Affairs, in partnership with Meridian International Center. The award seeks to reward those who address issues in their local communities and promote innovative solutions to tackle such challenges. 
Mohammad Abdus Salam is a full-time trade union activist who works with formal and informal workers. He protects the rights of construction, fishing, book bindings, domestic and migrant workers in Bangladesh. Salam has established the Workers Resource Centre which is the largest trade union platform in Bangladesh. 
His project created awareness amongst trade union leaders and activists on occupational health safety and employment injury insurance measures.  
Dr Nurul Huda Sakib received his Ph. D. from the Department of Government and International Relations at the University of Sydney, Australia in 2018. He has over 14 years of teaching, research and consultancy experience. 
His project sought to promote the practice of whistleblowing. Dr Sakib's initiative consisted of several workshops reserved for 80 students from four different universities. The impact of the project will be significant in the years to come as a generation aware of the consequences of corruption is unlikely to implement those same malpractices.  
Lamea Tanjin Tanha is a 21-year-old social entrepreneur and activist, pursuing an undergraduate degree in English at the University of Dhaka. She founded a non-profit organisation called TransEnd. 
Through her project, "Embracing Diversity, Building Peace" – a sensitisation program that reduced hate speech towards the transgender and queer community in the digital space through campaigns, workshops and counselling was organised. These activities were launched across five cities to reach out to more than 700 transgender people, Hijra, and gender-diverse people and raise awareness amongst at least 5,000 cisgender people on transgender rights in an effort to turn them into allies. 
Each awardee will receive up to USD 5,000 to work on their respective projects and implement their vision.