CAAB extends suspension of flights till May 16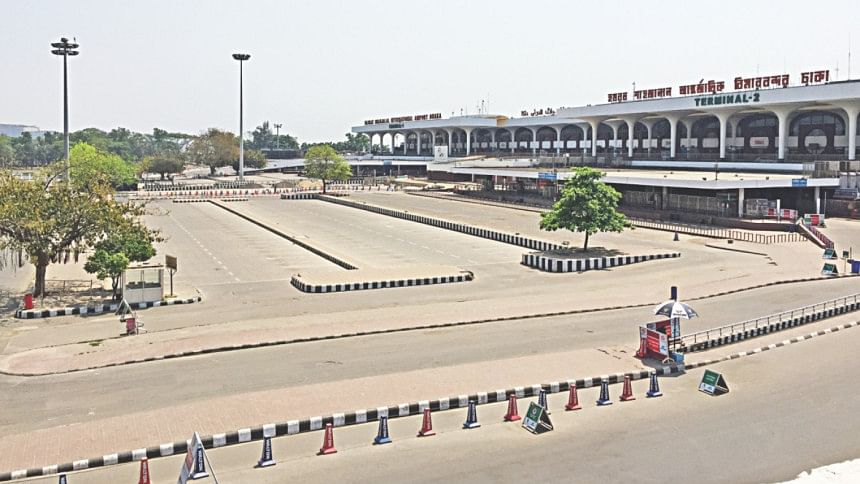 Civil Aviation Authority of Bangladesh today extended the ongoing suspension of passenger flight operations with all countries, except China, until May 16 to contain spread of Covid-19 in the country.
The countries are: Bahrain, Bhutan, India, Kuwait, Malaysia, the Maldives, Oman, Qatar, Saudi Arabia, Sri Lanka, Singapore, Thailand, Turkey, the UAE and the UK, said a press release of CAAB, the regulatory body to oversee the country's civil aviation.
Flight operations on domestic routes will also remain suspended till May 16, the release added.
However, cargo flight, air ambulance, emergency landing, special flight, and relief carrying flight will be outside the purview of the restriction, the release said.
This is the fifth time Bangladesh extended flight suspension period.
Meanwhile, different countries, including US, UK, Canada, Turkey, Sri Lanka, Australia, Japan, Singapore, Malaysia, Bhutan and Nepal have so far operated several special chartered flights amid the suspension to repatriate their citizens from here.
The Bangladesh government also facilitated chartered flights to bring back its nationals from a number of countries, including India, Singapore, Thailand and Maldives.
Meanwhile, Biman MD and CEO M Mokabbir Hossain in a WhatsApp message today said all international and domestic flights of the national airliner will remain suspended till May 16.