Sonia Bashir Kabir wins Microsoft Founder Award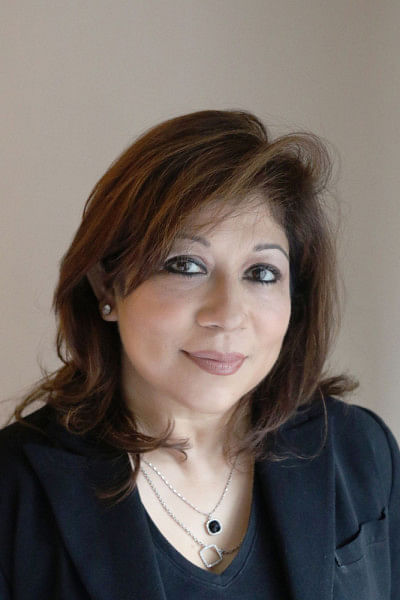 Sonia Bashir Kabir, Managing Director of Microsoft Bangladesh has won the highly prestigious Founders award given by Bill Gates.
This award is the highest honour any Microsoft employee can win and 15 people among 100,000 employees of Microsoft won it this year. Sonia was chosen from Asia Pacific and was given the award at Microsoft's annual general meeting held in US last week, before an audience of over 10,000 enthusiastic employees.
Founders award is given for superior leadership, innovation and significant contributions to the business with outstanding impact.
Individuals are selected from the Platinum Club Outstanding Achiever winners to be given this honour. Founders award winners receive a Rolex watch with Bill Gates initials and awardees initials.
Sonia has also been awarded Microsoft's highest award for Outstanding Achievement, the Circle of Excellence Platinum Club.
Less than 2% of Microsoft's nearly 100,000 employees received this award this year, which recognizes the company's strongest contributors and top performers.
The Bangladesh business has had an incredible turnaround over the last two years under Sonia's leadership. The team has delivered another strong year, achieving what was thought to be impossible and doubling from what it was just two years ago. The team has worked well together to drive growth across the entire business, improve morale and teamwork, and raise the visibility and relevance of Microsoft Bangladesh in the country, thanks to Sonia's leadership. The Windows Women Campaign (Digital literacy training for women), led by Sonia, has been recognized globally as an outstanding best practice. This relevance is especially noteworthy in the engagement with the government.  In addition to addressing piracy, partnering with the Prime Minister's office via Windows Women, and signing the first Microsoft Enterprise Agreement with the Government of Bangladesh, Ministry of Planning , the team has also partnered with the Ministry of Posts & Telecommunication on Cybersecurity.
The Platinum Club awarded by Microsoft's Chief Executive Officer Satya Nadella, recognized Sonia's contributions to Microsoft's success in achieving its key company objectives. Winners of the Platinum Club are influential leaders that have surpassed expected achievements and have gone above and beyond their line of duty. This club represents Microsoft's ongoing commitment to recognizing its finest and reflects the value Microsoft places on its peak performers.
In Sonia's words "I was truly humbled and surprised by both the awards. It is a great recognition and I am super excited about the future of Microsoft in Bangladesh especially aligning with our Prime Minister's Digital Bangladesh initiative. As we transform as a company I am deeply moved by the focus of our company to empower everyone in the planet to do more. It is an awesome time to be working for a tech giant like Microsoft."
PRESS RELEASE