Hands-on Review
Shoot to win: Huawei P9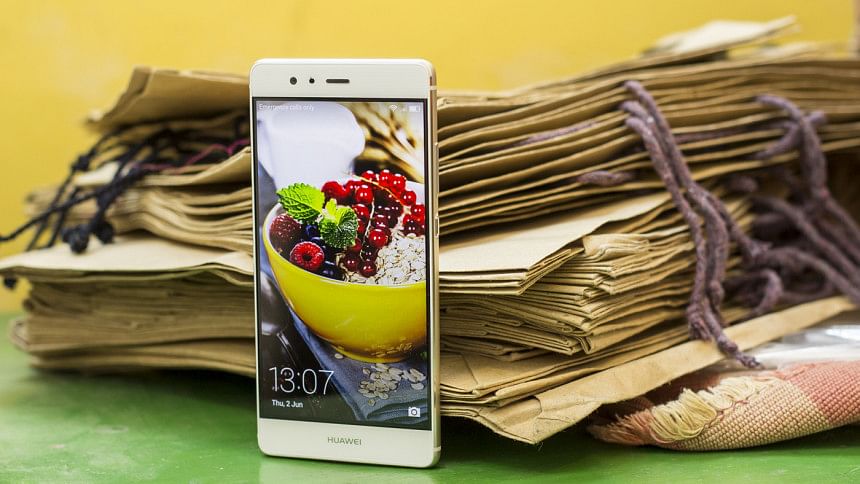 One upon a time people communicated through words. Those times are long gone. Someone attached a camera to a phone and now people refuse to speak. What they like for lunch? You'll be told via Instagram. Where they went last weekend? Photos on Facebook. What they feel about Donald Trump? Share memes about blind goats leading people over the edge of a canyon. The world communicates through pictures and mobile phone manufacturers are hell bent on making sure theirs is the snappiest snapper.
Nokia's Pureview changed the game drastically. Pinpoint sharpness from a camera the size of a spat out chewing gum is now expected without fail. Except it mostly fails. Huawei ties up with Leica, a name famous for artsy black and white photography, to bring the next new direction in mobile photography.
FIRST IMPRESSIONS
But this is also a handset review. And we'll get that out of the way first. The P9 which we went to see recently in China is Huawei's current flagship. It has a mid-sized 5.2" IPS 1080p display. The juice is derived from the hot new Kirin 955 chipset coupled with 3GB of RAM. We've thrown everything at it. Nothing fazes it like nothing should. Not now, not for a few more months to come. You're not going to slow it down.
The 423ppi display is super sharp with colours that are on the nice side of vibrancy without being overly saturated. The phone has a colour temperature setting that allows you to adjust the display warmth to your liking.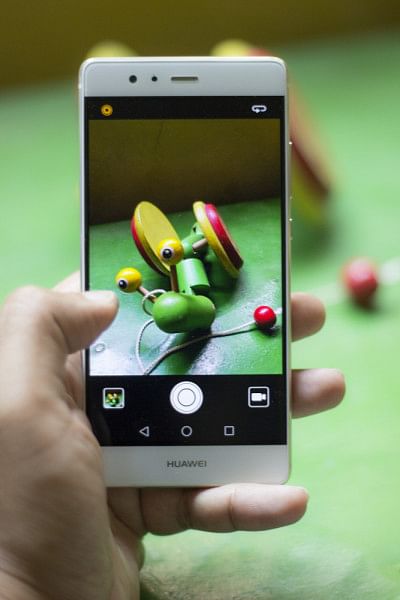 SOFTWARE
Huawei relies on their EMUI interface to bring you a custom version of Android. They have toned down their inclusion of bloatware but there are two glaring issues. One which may not be such a big deal is that the app tray is gone. All apps are now on the home screen much like iOS. If you like the latter, you'll be in good company. They have also inexplicably removed the flashlight shortcut from the shortcuts. I realised this when the electricity went out and I was in the garage trying to find the right key to open the padlock after yet any electricity outage.
Aside from that, the interface is quite intuitive with lots of features for customisation. But I want the flashlight back.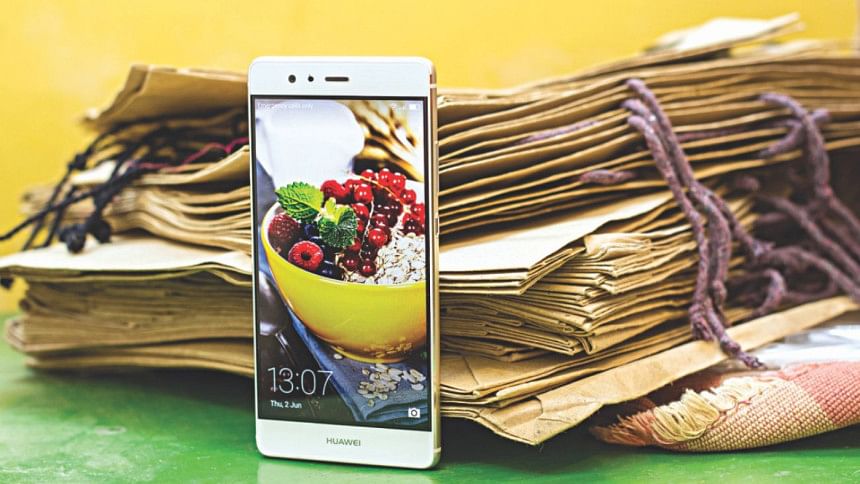 CAMERA
Here we go. Most people when buying this phone (or any phone) look first at the camera. Sure, it can make calls, but can it take really good pictures of us riding an open jeep through Teknaf? The P9 comes with a duo of 12MP units, both featuring Leica optics' hybrid auto-focus that simultaneously detect laser, depth and contrast.
You can shoot while adjusting different colour modes and desired shallow depth of field in real-time. Now that last bit is where it really sets itself apart. With just a pull of a slider, you can adjust how sharply you want your friend visible or whether you want to turn him into a blurry forgettable memory. You would want to do that with some people.
In some instances of macro photography as with my model cars, I found the shallow depth of field a little off putting as it didn't blur the edges evenly. But shoot from a distance and it looks fantastic. People, especially children in crowded areas are beautifully isolated in this manner. The autofocus is right on target almost all the time and the low light details are currently unmatched even by the mighty new Apple.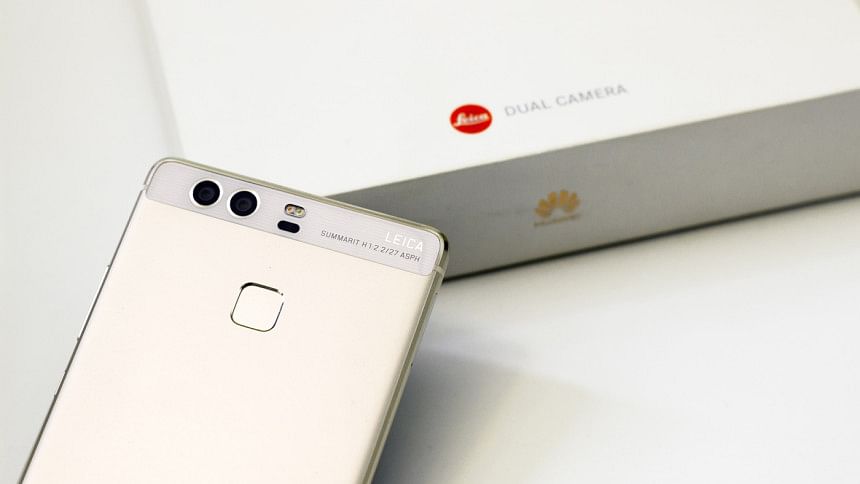 The manual options are so extensive that in my short weeks' worth of time with it, I am still trying to find out all the tweaks. The photos are the best I've come to see from any mobile device yet. The monochrome images have very high dynamic range while the colours are perfectly neutral unless you set it otherwise.
The front camera is an 8Mp unit and it has some proprietary features that are guaranteed to make you look good all the time. It will take your best pictures, let you adjust the dimensions and tone of your features and all that will be applied each time you take a selfie. No need for you to touch up your photos each time.
The video department is average at best. It shoots 1080p videos when you expect 4k from a flagship. You can shoot slo-mo at 120fps but resolution droops to 720p. Not great detail but colours are accurate with focus staying steady throughout.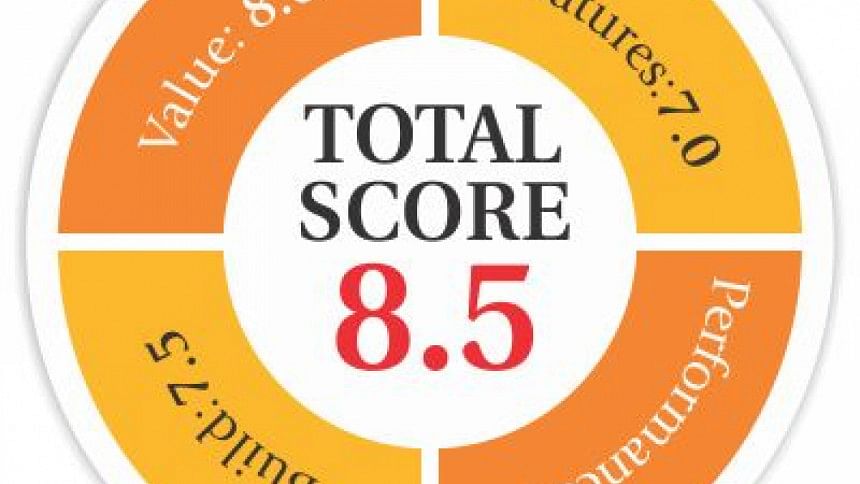 VERDICT
You can't go wrong with it. It is beautiful to look at and the sandblasted finish is a joy to hold. It's got an ultra-fast hardware combo and the battery just helps you go on. The fingerprint sensor is one of the fastest in the market. But where it shines is the photography department. It is the definitive camera phone for photography geeks. And if you're not one, you can still revel in how fast it snaps photos even in low light and still preserve tons of detail. You and your lunch/waterfall/cat/moody weather will always look good enough to frame. If you want to see more examples of the photos, check out our series of P9 photos on www.instagram.com/nutboltu/
SPECS
Display: 5.2 inches, 1920 x 1080 (423 ppi),
CPU: HUAWEI Kirin 955 (64-bit) 
GPU: Mali-T880 Mp4
OS: Android OS v6.0
ROM: 32 GB
RAM: 3 GB
Camera: Rear- Dual 12 MP(f/2.2); Front- 8 MP(f/2.4)
Battery: 3000 mAh
Sensors: Proximity sensor, Gyroscope sensor, Ambient Light Sensor etc.
Price: Appx Tk.47,990/- 
Photos: Ehsanur Raza Ronny