Call for ending the digital disparity
Asia-Pacific Information Superhighway Conference 2017 concludes last week with high hopes.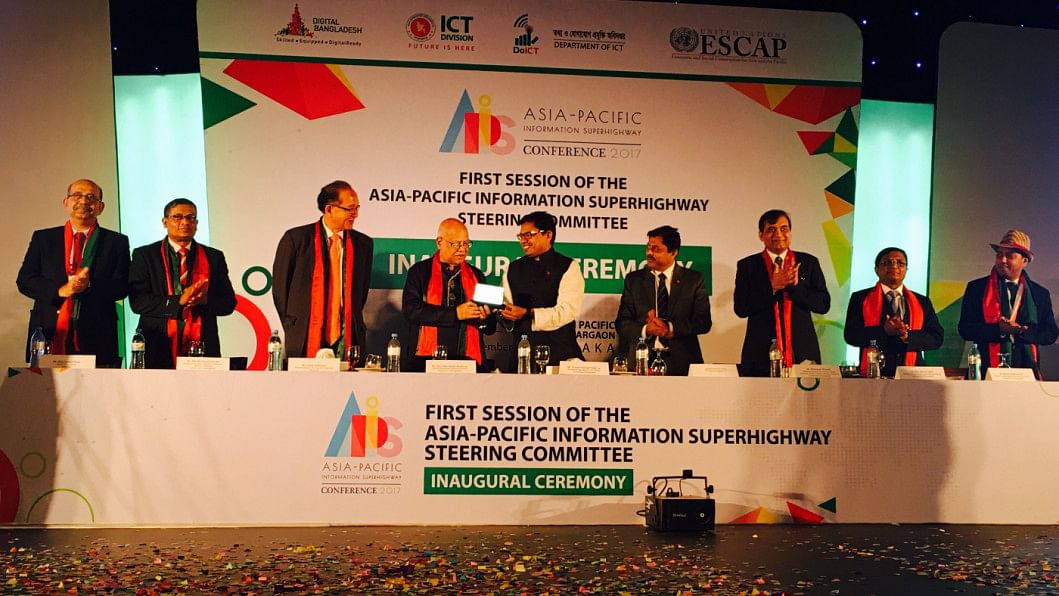 Countries in the Asia-Pacific region have made great strides towards implementation of the Asia-Pacific Information Superhighway (AP-IS) at Dhaka, Bangladesh this week which was co-organised by the United Nations Economic and Social Commission for Asia and the Pacific (ESCAP) and the Government of Bangladesh. Held at the Pan Pacific Sonargaon Hotel from 1 to 2 November 2017, the 2017 APIS conference brought together delegates from countries in the Asia-Pacific region with the common goal of encouraging and fostering easier, more affordable access to broadband internet. Topics like the role of Artificial Intelligence in streamlining international trade, the role of connectivity in providing assistance to people affected by natural disasters and others were discussed at the two-day conference.
 The meeting was opened by Abul Maal A Muhith, Minister of Finance, and Zunaid Ahmed Palak, State Minister of the ICT Division of the Government of Bangladesh. The inaugural session focused on implementation of the AP-IS Master Plan to enhance regional broadband connectivity for the achievement of the Sustainable Development Goals, as articulated in the Regional Road Map for Implementing Agenda 2030 for Sustainable Development in Asia and the Pacific.
 Meeting participants also successfully developed sub-regional implementation plans which are driven by member countries in collaboration with partners, using the unique regional cooperation platform of ESCAP.
 Zunaid Ahmed Palak in his concluding statements at the closing ceremony, drove home how the development of the information technology sector has contributed to economic and national growth, insisting that the IT sector has created more jobs whereas it was expected to reduce jobs.
 "There has been wave after wave of technological advance since the first Industrial Revolution and yet more people are working than ever before. Widespread unemployment due to technology has never materialised before. Certainly, automation has a big impact on labour market and some of the subsistent jobs are being destroyed.
I don't disagree about jobs vanishing but economic history tells us they will be replaced by new ones. The automobile may have wiped out blacksmiths, but it created new jobs in car manufacturing and highway construction," he said.
The minister also stressed on the nature of jobs being changed as developing nations move to smarter methods for work with the assistance of technology. He said that human augmenting technology plays an important role in fostering growth, as evidenced by globally competitive firms like Amazon enjoying the cost-reducing benefits of employing robots while keeping their worker hiring rates constant.