Women lack access to financial services: study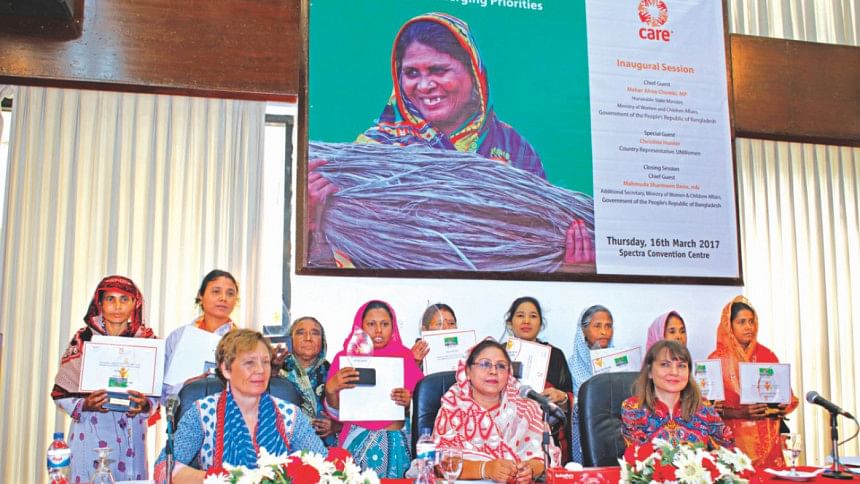 Women contribute 26 percent to bank deposits but they get only 2 percent as credit out of total outstanding loans, according to a study launched yesterday.
Despite better use of loans than men, women entrepreneurs face a lack of access to formal finance because of high transaction costs, asymmetric information, dearth of collateral and personal guarantee, and cumbersome documentation for loan application.
Rural women lack an access to savings and other financial services, according to the study presented at a conference on 'Women's Economic Empowerment (WEE) – Investing in Emerging Priorities'.
CARE Bangladesh organised the programme for International Women's Day at Spectra Conven-tion Centre, Dhaka, to bring together development actors, the private sector, policymakers and stakeholders.
Microenterprises are transforming women's livelihoods in Bangladesh by engaging them in non-farming activities, according to a presentation. There were three plenary sessions -- Women and Market, Women and Financial Inclusion and Women and Dignified Work.
Only money and education can empower women as financial solvency is the source of power, said Meher Afroze Chumki, state minister for the women and children affairs ministry, who attended as the chief guest.
Financial independence enables a woman to fight back oppression, she added.
Women's fate will have to change if we want to achieve a middle income country status, said the minister.
"In our society, men are powerful as they have income, but women lag behind in earnings. Financial dependence on men makes women weak."
The ministry is working on women empowerment by taking up projects to train them in different sectors including driving and mechanics, she said. The ministry recently took a project worth Tk 250 crore to train women across the country in 18 sectors.
Christine Hunter, country representative of UN Women, said, "We have to talk about women empowerment as girls are still facing many inequalities."
The economic empowerment of women will bring a big change in their lives, she added.
 There are different types of changes required, like building women's choices and giving them the ability to choose how they want to pursue their life, Hunter said. "We have to remove the barriers that limit women's choice."
She suggested women to raise their voice for their rights and interests; the challenge of women empowerment in Bangladesh is to raise voices collectively.
There are many instances of women's success in Bangladesh because they overcame the barriers, she said.
Women's contribution in the formal sector is unrecognised and undervalued, said Jamie Terzi, country director of CARE Bangladesh.
"First, we should address the gender discrimination that limits women's potential and opportunities," she said.   
It is time to give recognition to women's contribution in the informal and formal economic sectors, she added.
 CARE Bangladesh honoured 10 women with crests and certificates to recognise their contribution to women empowerment, while the state minister handed those over.
At the conference, a mobile app on financial services was launched for the garment workers.
Humaira Aziz, director of Women and Girl's Empowerment Programme of CARE Bangladesh, said the mobile based learning app is designed to provide basic knowledge on financial literacy.
The app was designed based on a financial literacy module developed by CARE through a one year pilot phase of the financial inclusion project targeting apparel workers.
The Labour Force Survey (LFS) 2013 shows that the labour force participation rate for female is only around 33.5 percent. Gender differences in the status of employment were also evident in LFS, which showed that 56.3 percent of women were unpaid family workers compared to 7.1 percent for men.
There is a higher growth rate of women as unpaid family workers from the period 1999 to 2010, and a majority of women's economic participation was in the informal sector.