Women entrepreneurs thwarted by lack of access to finance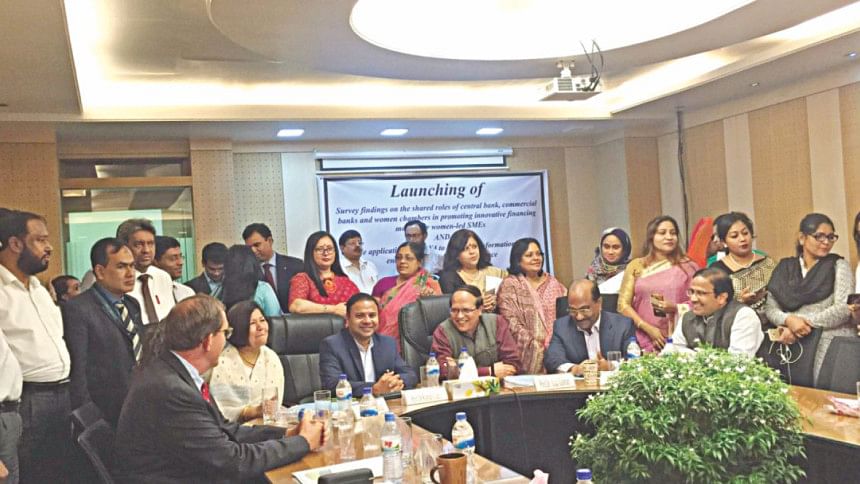 Access to finance is the main impediment for women-led small and medium enterprises in Bangladesh, said speakers at a seminar yesterday.
Banks still hesitate to lend to SMEs run by women although they are unlikely to become defaulters, they said at a discussion styled "Access to finance for women entrepreneurs in Bangladesh" at Dhaka University.
Subsequently, the speakers at the seminar, which was co-organised by the Centre on Budget and Policy of Dhaka University and the Asia Foundation, called for more access to money and information for women.
"Woman entrepreneurs deserve special focus by the central bank and the government. I urge the government to provide more money to women-led SMEs," said Atiur Rahman, former governor of the Bangladesh Bank.
Rahman, who teaches development studies at the Dhaka University, proposed a credit guarantee scheme for women entrepreneurs to enhance their access to finance.
The finance ministry gets Tk 100 crore for women entrepreneurs every year but the money is hardly spent, he said.
The money should be given to the central bank, which will definitively use it as a credit guarantee scheme for woman entrepreneurs.
"Then the banks will not hesitate to provide loans to women," Rahman added.
Rokia Afzal Rahman, former adviser to a caretaker government, said giving loans to women was a risk 30 years ago but not anymore.
About 20 million women borrowed from microcredit organisations and they returned their loans timely, she said.
"We find men default on their loans but women who take loans always return," said Rokia, who has been involved with MIDAS, a non-banking financial institution, for many years.
"We have been giving collateral-free loan to women for 25 years and we have found that all of them have repaid the loans. Women always pay back."
She said she always advises women entrepreneurs not to argue with banks about the interest rates. "Once you get access to finance, you can start a business and pay back the loans," she added.
The gap between policy and implementation at the grassroots level is huge, said David D Arnold, president and CEO of the Asia Foundation.
"The progress in the sector from 2009 to 2017 is remarkable. But there is still a long way to go."
Bangladesh is not only a pioneer in micro financing and woman empowerment, it is also a laboratory for social development, for inclusive growth, for environment and disaster response, he added.
M Abu Eusuf, chairman of the development studies of Dhaka University, presented a keynote paper on the occasion.
SK Sur Chowdhury, deputy governor of the BB, and Mustafa K Mujeri, executive Director of the Institute for Inclusive Finance and Development, also spoke.