Why do flat prices increase?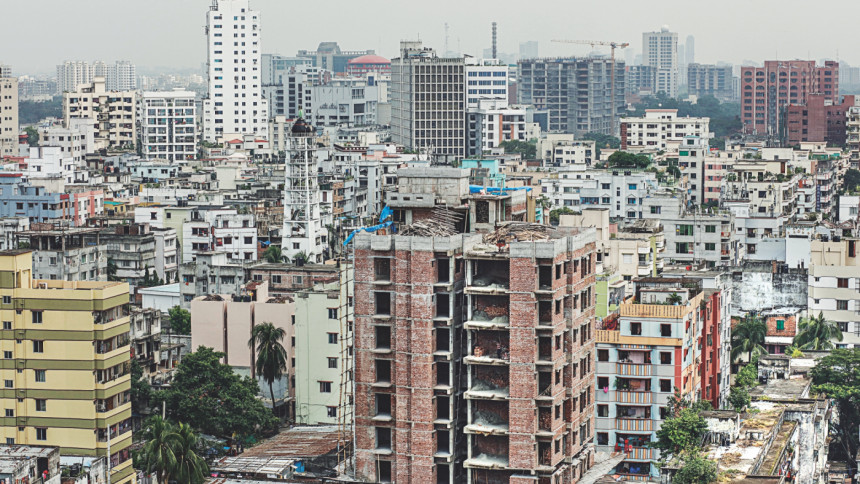 Seeing the soaring demand for apartments in Dhanmondi, Bashir Chowdhury, a businessman, wanted to monetise his vacant plot on the banks of Dhanmondi Lake.
He decided to build a modern multi-storey building without the hassles that come with construction. So he thought of getting it done by a developer.
Since this land was prime real estate, a mini fight ensued amongst a horde of developers to get Chowdhury to hand them over his land.
Chowdhury went with the offer that seemed the best to him: he would get a lump-sum amount of cash along with 40 percent of the flats in the building from the developer.
This upfront cash offered, widely known as the 'signing money', is fast becoming the developers' ammunition of choice to get the landowners to sign the dotted line, and in so doing, is driving up the apartment prices in Dhaka city.
"We need to give them a good fraction of the ownership along with a high cash benefit to convince them," said Hossain Khaled, managing director of Anwar Landmark.
The extra cost, by default, is transferred to the ones buying the finished apartment, he added.
Nowadays, landowners seem to be more interested in the amount of signing money than the quality of construction and design.
"The practice of signing money doubles or even triples the cost of construction in some cases," said Alamgir Shamsul Alamin, president of the Real Estate and Housing Association of Bangladesh (Rehab).
The main construction materials such as sand, cement and rod cost the same regardless of where the building would be made. It is the outlay the developers have to make to get hold of the land that separates the flat in Mirpur from Baridhara, Gulshan and Banani.
For instance, a 1,500 square feet flat will cost Tk 70 lakhs to Tk 75 lakhs in Mirpur but about Tk 3 crore in Gulshan or Baridhara, he added.
"We have an oversupply of too many unregistered realtors now developing lands with unbelievably high price and landowners whose expectations are soaring the sky," Khaled said.
Moreover, the tax on the cost of building materials was increased in this fiscal year's budget. It increased the price of each material by 15 to 20 percent, which the realtors had to fight to bring down to some extent.
In some cases, the asking price is a prestigious issue for the company. In Dhanmondi 14/A, a commercial builder has a project on a land owned by the company itself. Even though there was no signing money to give or split the ownership of the building on a 50-50 or 60-40 basis with the landowner, the developer was still bidding quite a high price.
Asked, an official from its sales department said: "There is a limit to how low the asking price can be set, but customers doubt the quality of the building if we ask for a substantially lower price than our competitors."
Since the cheaper compressed natural gas became an option for fuel from this century, the number of households owning one or more cars has increased, and so has the demand for more than one parking space.
To accommodate the market needs, the realtors are now adding more basements to their current and upcoming projects, which add to the cost.
In areas like Baridhara, Gulshan and Banani, the building is by default planned with two parking spots per flat.
Besides, the fact that six different departments of Rajdhani Unnayan Kartripakkha (Rajuk) need to be bribed before a plan gets approved cannot be ignored. And it becomes 11 when the building is more than 10 storeys.
It is not a choice anymore -- it is a rule, said the executive director of a renowned real estate company upon condition of anonymity.
"It will not make any difference if I alone refuse to pay the bribe. Other companies will pay them and move forward with their project while I wait for them to work on my papers at their own pace. It is a competitive market and we all want our products to sell."
All that the developers can do is increase the flat prices to cover up for this extra expenditure that they are not supposed to have in the first place, he added.
A director from another known real estate company, again on condition of anonymity, said the prices of flats would have come down to two-thirds of what it is now if corruption among the government officials is checked.
"The cost price for even the comparatively high-end projects does not go beyond Tk 8,000 per square feet. It is utterly frustrating and tragic that they need to be sold at a minimum of Tk 16,000 to adjust all the costs."
Only 15 percent of the buyers in the market are in the hunt for high-end apartments. The rest are middle-income and below, whose buying capacity barely ranges from Tk 3,000-5,000 per square feet.
"So they are priced out of the market," he added.
To ensure affordability, the price of land needs to be adjusted, said FR Khan, managing director of bti - building technology & ideas.
"Since lands are owned by individuals or groups, who don't see that the land valuation is not the same as before, it is difficult to make them understand about the market situation because there will still be unprofessional developers who will give unrealistic offers and confuse them."
Later, they fail to deliver on their promises, he added.
A sub-factor of the affordability is home loan.
Banks and non-bank financial institutions are coming forward with home loan plans but that can only help if the interest rate is in single digits.
In a space of six months, the interest on home loans has increased from 8.5 percent to 11 percent, which adds to customers' frustration.
Another issue is the registration cost when purchasing property, which is about 16 percent.
"It is quite high. If the government takes an initiative to reduce this it would help with affordability," said Saif Khondoker, director of Shanta Holdings.