Weak taka cheers up remitters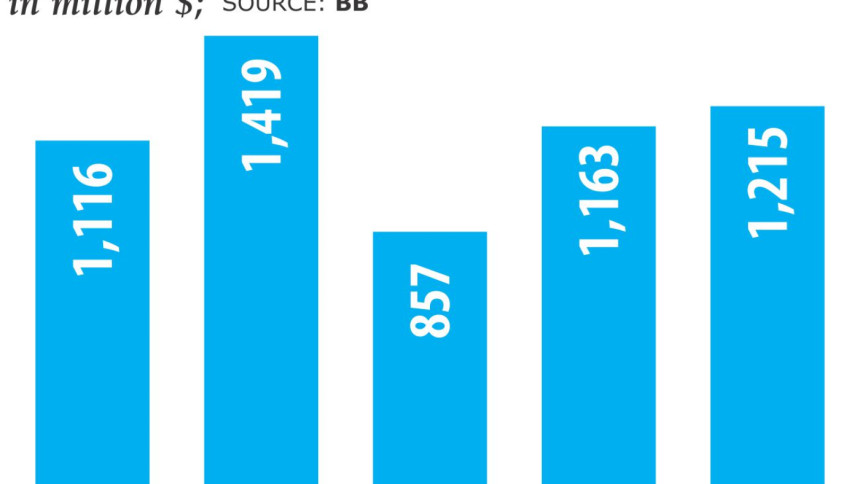 Remittance income rose 27.64 percent year-on-year to $1.21 billion in November, as the depreciation of the taka against the American dollar made sending money to Bangladesh more lucrative, according to data from the central bank.
November's inflows was also 4.47 percent higher than that of October when migrant workers sent home $1.16 billion, and took the total receipts to $5.76 billion so far in the current fiscal year, up 10.76 percent in the same period from a year earlier.
Bankers say the depreciating taka against the dollar has helped Bangladesh receive more remittances in November.
The local currency has been depreciating heavily against the American greenback over the last few months, prompting Bangladeshis living abroad to remit more money through banking channel, they said.
The inter-bank exchange rate was Tk 82.30 on November 30, up 1.85 percent from Tk 80.80 on October 2, according to the central bank.
Bills for collection sell rate, which importers pay to banks to buy USD, also went up to Tk 85 per American dollar in the middle of last month from Tk 82.50 in July.
Mamun-Ur-Rashid, managing director of Standard Bank, said the sliding value of the taka against the greenback encouraged the migrant workers to send their money through formal channel.
The senders earlier chose digital hundi, an illegal cross-boundary financial transaction system, he said.
In case of digital hundi, remitters deposit the amount to a vendor in their host country. The vendor then instructs his network in Bangladesh to deposit the sum to the accounts of mobile financial service (MFS) providers.
Through this illegal channel the recipients in Bangladesh tend to get a bigger sum than what they would have if the money was sent through official channel.
Rashid said the central bank has recently asked MFS providers to suspend suspicious accounts of agents, who settle cross-country financial transactions by bypassing the money laundering and terrorism financing laws. The directive paid off by way of boosting remittance income.
Md Arfan Ali, managing director of Bank Asia, said the remittance inflow increased in recent months as the migrant workers are now getting a favourable rate.
Syed Mahbubur Rahman, managing director of Dhaka Bank, said Bangladesh has benefitted from a number of recent initiatives undertaken by the government and the central bank.
The BB has asked banks to recruit agents abroad to collect remittances from migrant workers. It also requested Bangladesh's embassies to take measures aimed at encouraging workers to use official channel to remit money, Rahman said.
Expatriate Bangladeshis sent home $12.77 billion in 2016-17, down 14.47 percent year-on-year. The inflow was the lowest in six years, which plunged the country's current account balance in the deficit zone.