Walton's handset assembly plant starts rolling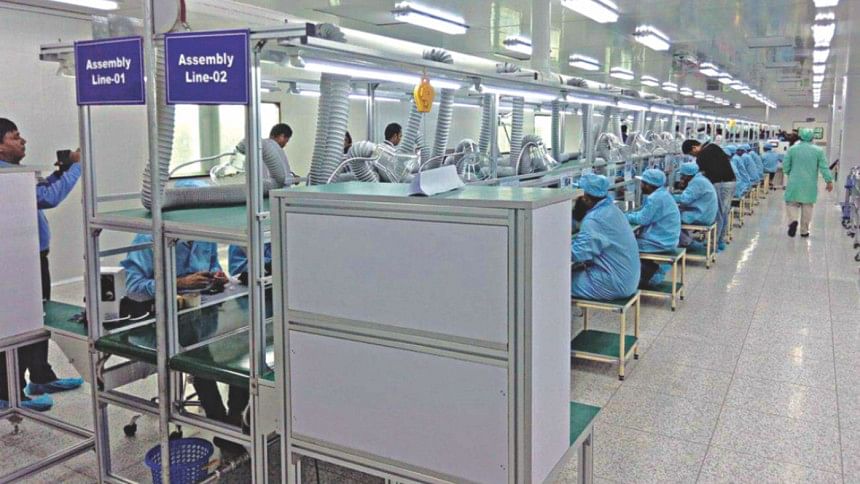 Walton yesterday inaugurated the country's first mobile handset assembly plant in Gazipur with the view to capturing a major share of the domestic market in the near future.
State Minister for Telecom Tarana Halim inaugurated the plant, which cost the local electronics giant about Tk 100 crore, according to Uday Hakim, senior operative director of Walton Group.
The local company has started off with assembling smartphones on a trial basis; customers are expected get their hands on the first batch of the locally assembled handsets by the end of the year.
Walton will initially assemble 2-3 lakh handsets per month and slowly scale up to about 50 lakh units a year.
The company ultimately wants to export handsets from the plant.
"But we first want to meet the local demand," Hakim said.
Walton's assembly plant, where chargers, head phones, batteries and USB cables will also be manufactured, comes after a series of encouraging move by the government.
The government slashed the customs duty for mobile components meant for local assembling by a whopping 36 percentage points to 1 percent and doubled it on handset imports to 10 percent.
Another local brand Symphony is also gearing up to start its mobile assembly line rolling.
Once Walton and Symphony—the two major players in Bangladesh's handset market—bring out their locally assembled handsets, the price level of mobile phones is expected to substantially come down.
In 2016, Walton was the third largest importer of handsets, bringing in about 20 lakh units.
The country imported about 3.1 crore handsets, up 11 percent year-on-year, at the cost of around Tk 8,000 crore in 2016, according to Bangladesh Mobile Phone Importers Association.