Vegetable prices soar as Ramadan comes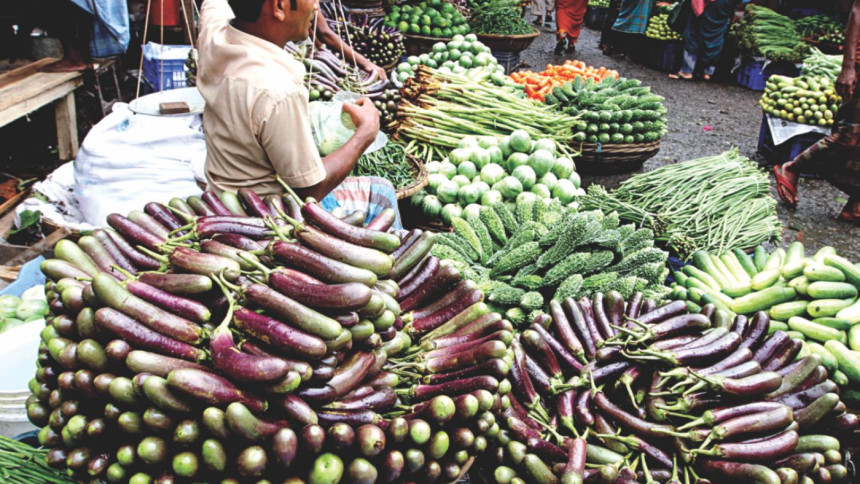 The prices of a number of vegetables and commodities went up sharply in the city markets on the eve of Ramadan when demand usually rises.  
The steepest hike was in the prices of aubergine, vastly used for preparing Iftar items, followed by green chili and cucumber. Prices of fish and meat also went up. Aubergine prices almost doubled to Tk 80-Tk 100 a kilogramme in city markets yesterday, compared to the prices the day before.
Cucumber was selling at Tk 40-Tk 50 a kg at a kitchen market in Kazipara in Mirpur, although the price was Tk 30 on Wednesday.
The prices of green chili went up by Tk 20 a kg, while imported garlic prices by Tk 10, gram by Tk 5 and onion by Tk 3 yesterday, compared to the previous day.
"The prices of brinjal have gone beyond our reach," said Golam Kabir, a retired government official.
At a kitchen market at Shukrabad in the city, prices of koral fish went up to Tk 650 a kg from Tk 500 a week ago, and ruhi Tk 330 from Tk 280-Tk 300.
However, Habib Hossain, a customer at the market, said the prices of two popular items -- gram and date -- were almost stable.
Prices of potato and onion went up by Tk 4-Tk 5 a kg compared to the previous week, according to Trading Corporation of Bangladesh.
Retailers blamed the soaring prices of vegetables on a supply shortage. But Hossain said traders are making excessive profits in the name of a supply crunch.
In every Ramadan, prices of some vegetables and food items go up unusually as their demand increases and some wholesalers and retailers cash in on the situation.
The Federation of Bangladesh Chambers of Commerce and Industry, the apex trade body, always urges the traders not to hike prices excessively but to no avail. Consumers rights activists blame weak monitoring by the government for the price hike.