VAT to stay at 15pc in new law: Muhith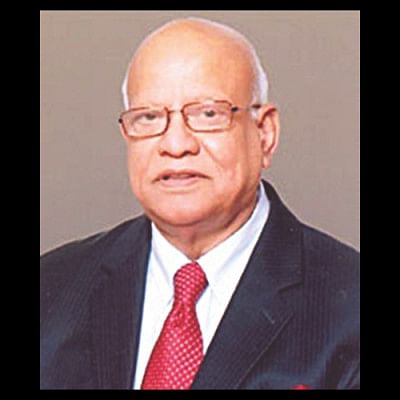 The unified value-added tax of 15 percent will remain unchanged under the new VAT law, which is expected to come into force in July, Finance Minister AMA Muhith said yesterday.
"It is still my position," he said, replying to the reporters after a meeting with senior officials of the National Board of Revenue at his office.
Muhith's comment came after businesses, particularly the Federation of Bangladesh Chambers of Commerce and Industry, repeatedly demanded the VAT rate be slashed to 7 percent from 15 percent.
He said businesses wanted different VAT rates in the past and withdrawal of the 15 percent rate.
"For the initial period, the decision to use a unified rate is good. In my opinion, it is a very good decision. So, I stick to the decision," Muhith said.
The minister said the NBR would discuss with trade bodies on VAT-related issues again. He also plans to sit with business leaders shortly on the issues.
Muhith said businessmen have more or less accepted the new VAT law. 
"But we also want to hear from them. It will not be a good thing if they oppose. So, we also want them to modify their position by the time it becomes a law."
"With only six months left for it to become a law, we have some more work to do."
Muhith also shed light on revenue collection. "Revenue collection is not bad. Revenue always falls short of our estimates to some extent. But there are some good signs this year."
He said the electronically generated taxpayer identification numbers crossed the target.
"That's a good sign. In the last 8-9 years, we have been able to prove that the collectors are not all bad people. They also make things convenient. This is a big change."
Another change, according to Muhith, is that a large number of taxpayers are young people who are below 40.
Muhith rejected a projection by the Centre for Policy Dialogue that there would be a shortfall of Tk 40,000 crore in the government's revenue collection from the target.
"This is absurd, just absurd."
The CPD in its review of Bangladesh's development said revenue mobilisation will fall short of the target of Tk 242,752 crore in 2016-17 for the fifth consecutive year as the target was set at a very ambitious level.
The CPD said the collection of total revenue could fall short of the amount even if the non-NBR revenue and non-tax revenue are taken into account.