USAID to fund safety upgrades in garment factories
Alliance names six fully compliant garment companies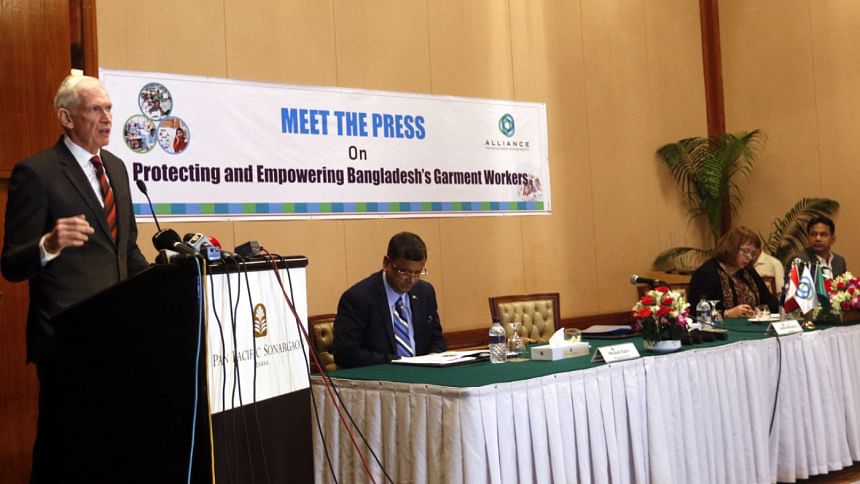 The United States Agency for International Development or USAID will provide $18 million for factory upgrades in the garment industry.
The USAID and the Alliance for Bangladesh Worker Safety, a group of 26 North American retailers, will sign an agreement by the end of this month on the funding programme, allowing the participating local banks to provide low-cost loans for garment factories to improve their structural, electrical and fire safety infrastructure.
The announcement came yesterday at a media briefing organised by the Alliance, which was formed after the Rana Plaza building collapse in April 2013. It has already completed preliminary inspections into its member factories in its two years' stay in Bangladesh.
"We will provide the fund so that small and medium companies can improve their workers' safety and factory environment. We want to see Bangladesh as the leading apparel manufacturer in the world," Janina Jaruzelski, mission director of USAID for Bangladesh, said at the presser at Sonargaon Hotel.
The fund will be used in the same manner as loans from the International Finance Corporation, which is providing $50 million through five banks for upgrading the garment factories under the Alliance.
"By making financing more widely available and affordable, and working with factory owners to make necessary repairs, the Alliance is making factories safer for millions of workers," said James Moriarty, executive director of the Alliance.
The names of six factories that have become completely compliant by fixing fire, electrical and structural issues were disclosed at the media briefing.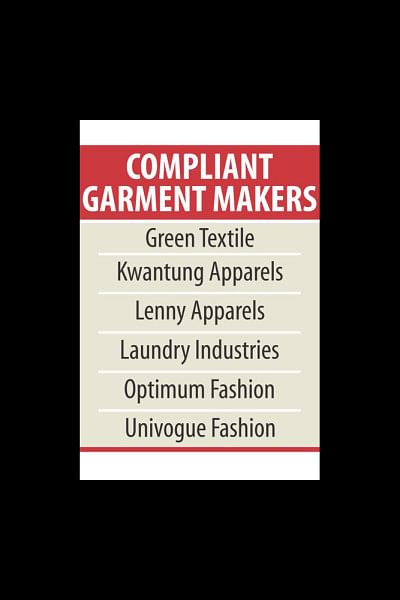 Citing the rise in cost of doing business due to upgrades, he said there are many small factories that might not have enough funds to address these issues. "Partnership between the government, donor agencies and owners are needed to this effect."
In response to queries, Moriarty said all factories can pass the Alliance's remediation verification visit although progress is slow. Over a million workers and security guards have been trained under the Alliance's fire safety training programme, he added.
"We found the six factories 100 percent compliant, and another 50-60 factories will be compliant soon, and their names will be disclosed as well," said Moriarty, also a former US ambassador to Bangladesh.
The Alliance, which also created a $100 million fund through its 26 signatories for Bangladeshi garment factories, will release its second annual report in North America and Australia on September 8.
Some 790 factories are now under the scanner of Alliance, which inspected 661 factories and approved corrective action plans for 591 factories.
Salam Murshedy, former president of Bangladesh Garment Manufacturers and Exporters Association, discussed some confusion over having bank accounts with the participating banks to get credit under the remediation programme, and urged the Alliance to look into the matter.
In response, Moriarty said the Alliance has already raised the issue with the participating banks.
As the Alliance's five-year programme will end in 2018, Moriarty hoped that all the factories would be fully compliant by that time.
Bangladesh Accord on Fire and Building Safety, another platform of 200 retailers and brands, mostly European, has also completed its preliminary inspection of about 2,000 garment factories here.