Trade deficit may hit record $13b: BB
Trade deficit would hit a record $13 billion this fiscal year due to higher import payments against lower export earnings, Bangladesh Bank said yesterday.
The widening trade deficit would put a pressure on the country's foreign exchange reserve, analysts said.
At the end of 2016-17, the trade deficit stood at $9.47 billion, up 46.62 percent year-on-year, according to data from the central bank.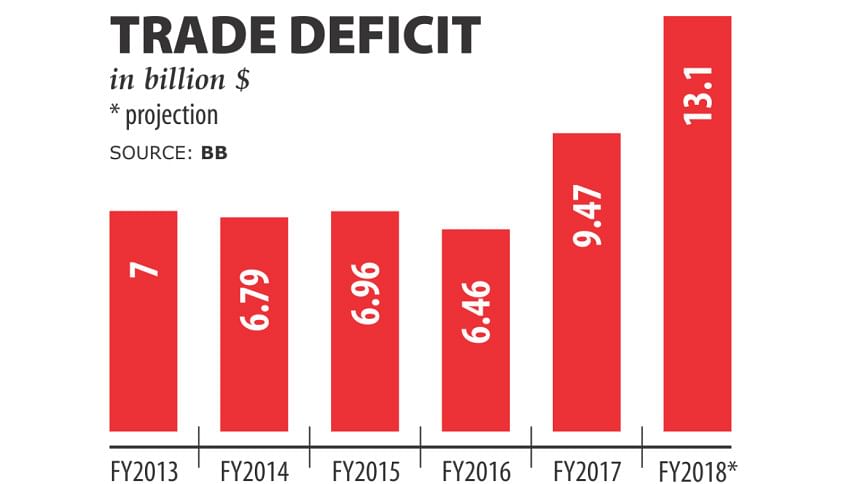 Trade deficit never crossed the $10 billion-mark but it might this fiscal year, the central bank said in its latest monetary policy statement for the January-June period.
The projected trade gap indicated that the country's export earnings would also see a moderate growth this fiscal year while import payments would increase heavily.
The trade deficit in the first five months of 2017-18 stood at $7.60 billion.
The current account balance would register a deficit of $4.34 billion in 2017-18 in contrast to a surplus of $4.26 billion a year earlier, according to the central bank's projection.
The import of capital machinery and industrial raw materials has registered a significant growth in the first half of 2017-18, BB Governor Fazle Kabir said.
The sudden increase of import payment has led to a 2.5 percent depreciation of the local currency against the dollar in the July-December period of the fiscal year.
The current account deficit also widened putting a pressure on the country's foreign exchange reserve, he said, adding that the central bank has focused on the issues in the latest monetary policy.
The current account deficit has already reached a 15-year high in the first five months of the fiscal year.
In the July-November period of 2017-18, the deficit stood at $4.43 billion, which is way higher than the $683 million recorded in the same period a year earlier.
The current account balance plunged into the deficit zone due to a moderate growth in remittance and export and higher import payments.
Such large amount of trade deficit along with the current account would put an adverse impact on the foreign exchange reserve, AB Mirza Azizul Islam, a former caretaker government adviser, told The Daily Star yesterday. He, however, said import payments of seven to eight months would be made by using the country's existing forex reserve.
So, the large trade gap will not create any worrying situation right now, but the government should take immediate measures to increase the export earnings and remittances, he said. The BB, however, estimated that the inward remittance would increase to $13.72 billion in 2017-18, up from $12.59 billion a year earlier.