Tobacco workers to lose jobs for new taxes: analysts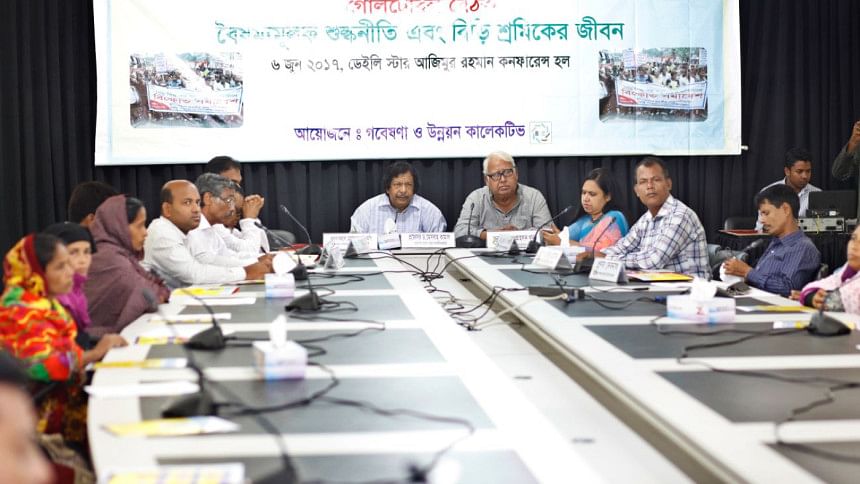 The proposed taxes on tobacco will destroy the local bidi industry and render some 15-20 lakh workers jobless, allowing multinationals to completely take control of the market, analysts said yesterday.
They said they are against tobacco use because of its impacts on health and the environment, but alleged that the taxation on tobacco for 2017-18 was influenced by multinational tobacco companies who work against the local bidi industry.
The observations came at a discussion titled "discriminatory tax policy and life of bidi workers" organised by the Research and Development Collective (RDC) at The Daily Star Centre in Dhaka.
"We are against tobacco, but in favour of workers. The taxation policy is clearly against the local bidi industry and for multinational companies," said RDC Chairperson Prof Mesbah Kamal.
He said mostly the poor work in the bidi industry. "So, if the industry is to be eliminated, the authorities must arrange alternative jobs for them," he said.
RDC General Secretary Zannat-E-Ferdousi in her keynote said price of one packet of bidi went up by Tk 8 and low segment cigarette by Tk 4, while prices of high segment cigarettes were not increased at all.
"This is actually helping the multinational cigarette companies capture the market and eliminate the local bidi industry," she said.
Ferdousi said cigarette-making is a mechanised industry, which employs only about 10,000 workers. On the other hand, bidi is a labour-intensive sector and some 15-20 lakh people, especially poor women are involved in the industry. "But the finance minister said the number of workers in the bidi industry has shrunk by 90 percent. The statement is absurd," she said.
Amin Uddin, a bidi worker and labour leader from Rangpur, said the finance minister has declared to eliminate the bidi industry within two years. "Will he be able to create jobs for us?"
"We will stop working in the bidi industry if the government provides jobs. If the government truly wants to discourage tobacco consumption it has to discourage cigarette consumption first because most smokers smoke cigarettes," he added.
Bangladesh Bidi Workers Federation Organising Secretary Harick Hossain said the minimum wage for a bidi worker is Tk 157 for binding 5,000 bidis, but the tax on it is Tk 1,650 as per the proposed budget.  Hossain said the workers would be compelled to wage a tougher movement if the government does not deal with their concerns and bidi workers lose jobs because of the closure of domestic bidi factories.
Lawmaker Fazle Hossain Badsha, general secretary of the Workers Party of Bangladesh, said he would raise the issue in parliament because it involves livelihoods of a lot of poor people.
Manzurul Ahsan Khan, an advisory council member of the Communist Party of Bangladesh and Addur Rahman, joint secretary of Bangladesh Bidi Workers Federation, also spoke.