Tenure of Alliance, Accord won't be extended: Tofail
The government will not extend the staying period of Accord and Alliance after the expiry of their tenure in July 2018, Commerce Minister Tofail Ahmed said yesterday.
"We will not extend their stay even for a single day, although they are trying to do so," he said at the inauguration of a three-day expo of fire safety equipment in Dhaka.
Following the Tazreen Fashions fire and Rana Plaza building collapse, international retailers who source from Bangladesh formed the Accord and Alliance to ensure electrical, fire and structural safety in garment factories.
The tenure of Accord, a platform of mainly European retailers, and Alliance, another platform of North American brands, will come to an end in July 2018.
Both the agencies have already completed preliminary inspections of more than 2,000 garment factories across the country and are now monitoring the progress of the corrective action plans.
Bangladesh gives a lot of importance to workplace safety, the minister said, citing the withdrawal of duty on imports of safety equipment and pre-fabricated buildings following the twin industrial disasters.
The items were subjected to 62 percent import duty previously.
But unfortunately, little incidents of Bangladesh are highlighted all over the world, he said.
Sometimes, some quarters criticise Bangladesh even for arresting criminals, showing the excuse of human rights violation. In some countries, the argument of human rights is not put forward even in incidents of mass killing.
"Initially, I was also irritated with the presence of Accord and Alliance in Bangladesh. But after the completion of the preliminary inspections I am very happy, as they found that less than 2 percent of the factories are risky."
"Now, we can say that most of our factories are compliant," the minister added.
Pakistan, Cambodia and Vietnam, among others, are taking lessons from Bangladesh on how to improve workplace safety, said Ian Spaulding, chief executive officer of Elevate, the organising company of the expo.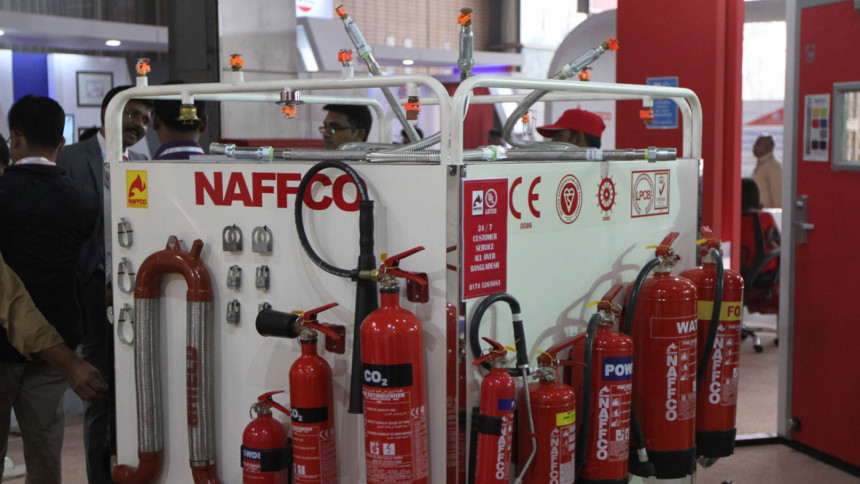 Some factories have already improved their structural, electrical and fire safety considerably and are now getting more work orders from the international retailers, he said.
"But, many factories, especially the small and medium ones, are not improving well and one day they might not go with us."
Previously, some companies imported fire doors but they did not know how to install them.
"This is why we started organising the expo so that people can know the installation of equipment from experts," he added.
Siddiqur Rahman, president of Bangladesh Garment Manufacturers and Exporters Association, urged the government to arrange low-cost funds from the banking system for factory remediation.
Mesbah Rabin, managing director of Alliance, said the duty-waiver by the government helped reduce the prices of safety equipment in Bangladesh.
So far, 18 garment factories have completed remediation successfully and are doing well in terms of work orders from international garment buyers, he said.
More than 30 companies and organisations are displaying products and services at the show at Bangabandhu International Conference Centre; 13 of the participants came from abroad.