Teletalk to give women 20 lakh SIMs for free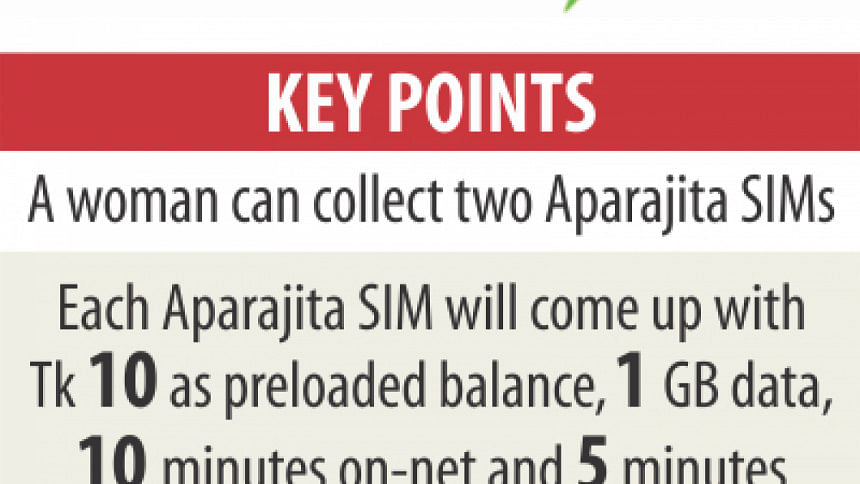 Teletalk will distribute 20 lakh SIMs free of cost among women in three months, as part of an effort to provide them with easy access to internet to ensure women empowerment.
State Minister for Telecom Tarana Halim launched the scheme under a new package—Aparajita—at a ceremony at the telecom division yesterday.
A woman can collect two Aparajita SIMs from the customer care centres and retailers of the state-owned mobile operator, Tarana said.
An Aparajita user will get Tk 10 as preloaded balance with a validity of three months, Teletalk officials said.
The users will also enjoy 1 GB data and 10 minutes on-net and 5 minutes off-net talktime for free for the next seven days, they added.
The mobile connections will be distributed on a first-come, first-served basis.
The Aparajita users can also purchase weekly packages of 1 GB of data at Tk 8 and 2 GB of data at Tk 14. They can avail the offer three months in a row after activating the SIM, officials said.
Existing female Teletalk users can migrate to the Aparajita scheme, Teletalk's Managing Director Kazi Md Golam Quddus said.
Quddus expects the new scheme to boost the operator's number of customers. As of August, Teletalk had 32.34 lakh active connections, according to Bangladesh Telecommunication Regulatory Commission.
In a programme at the Teletalk office in August last year, Tarana had declared a roadmap for the operator to activate 30 lakh new connections by July 2017. At that time, Teletalk had 44.90 lakh active customers, the highest for them till date.
Teletalk had earlier distributed 10 lakh SIMs among women through another project.
Quddus said their main target was to help the country achieve sustainable development goals (SDG).
If it wants, the government can also distribute other government assistances through these connections among the women living in the country's remotest areas, he said.
Tarana said Teletalk does not do business rather it provides service and maintain the equilibrium of the market.
She said one of the mottos of the SDG was "none will be left behind" and that was why Teletalk undertook the move to "ensure their (women) easy access to internet and cheaper voice call rates towards their empowerment".
She hoped that the Aparajita scheme would contribute to the social and economic development of women in the long run.