Tax dispute takes a toll on GP profits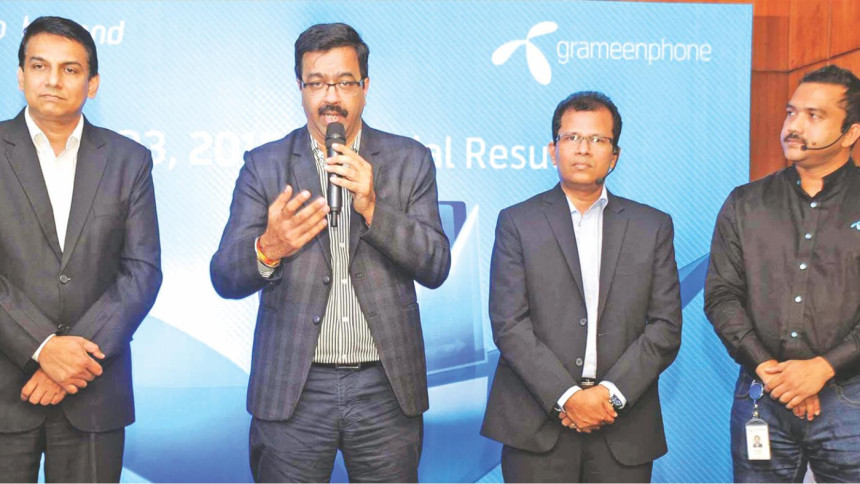 Grameenphone has linked a dispute with the tax administrator -- for which it had to deposit Tk 100 crore as part of an appeal procedure related to SIM replacement tax -- to the decline in its net profits in July-September.
"We deposited the money during the third quarter, and this is a major factor behind the decline in net profit," said Dilip Pal, chief financial officer of Grameenphone, in response to queries at a press briefing at Sonargaon hotel in Dhaka yesterday.
Depositing that flat amount was a part of the appeal procedure related to the SIM replacement tax dispute with the National Board of Revenue involving about Tk 1,000 crore.
In 2012, the NBR claimed about Tk 3,000 crore from the four mobile operators, arguing that they had resold SIM (subscriber identification module) cards and dodged taxes between July 2009 and December 2011.
Refuting the claim, all four operators went to court, which returned the issue to the NBR for settlement. 
Grameenphone's net profit dropped 22.53 percent year-on-year to Tk 414.12 crore in the July-September period, though its revenues grew 3.35 percent to Tk 2,647.42 crore.
"We are gaining momentum of performance revival from the headwind experienced from intense price competition and political turmoil during the first quarter of 2015," said Rajeev Sethi, chief executive officer of Grameenphone.
"Gradually we are observing healthy minutes' growth and our data performance is showing encouraging developments. Our clear focus on driving simplified customer centric market initiatives is helping us to create this momentum."
During the July-September period, revenue from data services grew 64 percent to Tk 230 crore, which was Tk 140 crore in the same period last year.
Grameenphone invested Tk 1,470 crore in the first nine months for further rollout of 3G sites, 2G coverage, capacity enhancement for catering higher volume of data and voice as well as enhancement of IT infrastructure.
"We are on the right track to deliver profitable growth amid the subdued top line performance during the period. We shall continue with our planned operational excellence initiatives for the remaining part of the year as well," Pal said.
In the first nine months of the year, the operator's total revenues rose to Tk 7,794.21 crore from Tk 7,674.05 crore in the same period a year earlier.
The net profit, however, slipped to Tk 1,461.82 crore in the January-September period from Tk 1,592.24 crore last year.
With a 10.4 percent year-on-year growth, Grameenphone acquired 40 lakh new subscriptions in the first nine months to take its total subscriber base to 5.55 crore at the end of September.
Of Grameenphone's 1.52 crore data subscribers, 1.2 crore use 3G services. Grameenphone, the country's lone listed mobile phone operator, paid Tk 3,880 crore to the national exchequer, making it the largest contributor during the period.
On the Dhaka Stock Exchange yesterday, each Grameenphone share traded between Tk 241 and Tk 253.4, before closing at Tk 252.2.