Telcos' investment falls, revenue up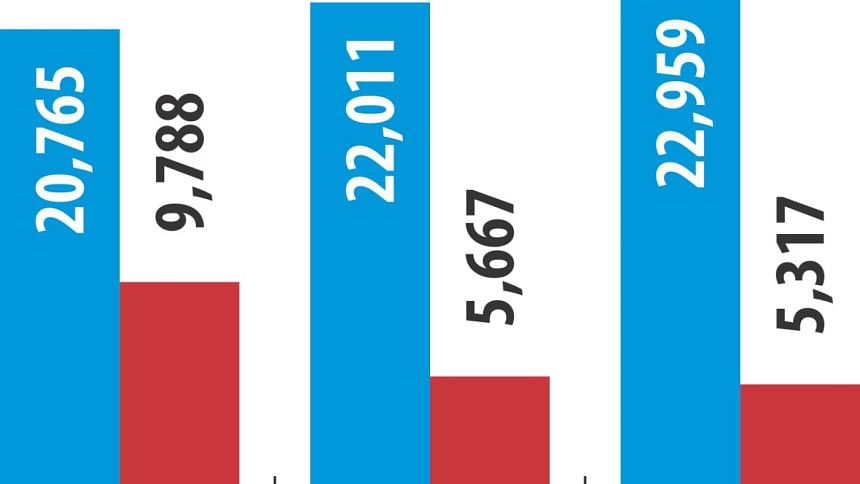 Mobile operators' investment declined 6.18 percent last fiscal year, while their revenues increased 4.3 percent, according to statistics from the telecom regulator.
The six mobile operators altogether earned Tk 22,959 crore and invested Tk 5,317 crore.
Of the six operators, only Grameenphone and Citycell bumped up their investments in fiscal 2015-16, according to the Bangladesh Telecommunication Regulatory Commission's annual report.
Grameenphone led the charge in terms of investment in fiscal 2015-16, putting in Tk 2,276 crore, which is an increase of 21 percent from a year earlier.
Beleaguered Citycell, which did not make any investment in fiscal 2014-15, put in Tk 64.44 crore last year.
Grameenphone made significant investments during the period to expand 3G coverage and strengthen 2G network, said Sayed Talat Kamal, the operator's head of external communications.
"This investment and the resulting network coverage has positively impacted customer experience and cemented our position as the number one network of the country," he added.
However, senior executives of other operators said the investment figures were much higher in the preceding three fiscal years than the last as a handsome amount needed to be paid for 2G licence renewal, to acquire 3G spectrum and subsequently build 3G networks.
"Now that we have covered almost all the geographic areas, the need for investment was not that much. But new investments will come soon for upgrading the network," said a top official of a leading operator.
In terms of revenues too, Grameenphone was in pole position. Its revenues increased 5.72 percent to Tk 10,890 crore, which is 47.43 percent of the industry revenues earned in fiscal 2015-16.
Robi was the second largest operator in terms of revenue and investment in fiscal 2015-16. Its revenues stood at Tk 5,155 crore, up 1.9 percent year-on-year; its investment was Tk 1,644 crore, down 9.97 percent from a year earlier. Banglalink's investment declined 20 percent, while its revenue growth was flat at Tk 4,367 crore.
Airtel's investment declined 32.91 percent to Tk 253 crore, while its revenue increased 10.56 percent to Tk 1,490 crore.
State-owned Teletalk's revenues swelled 30.68 percent to Tk 984 crore but its investment slumped 83 percent to Tk 36 core.
Senior officials of the lone state-owned operator said they are expecting the revenues to cross the Tk 1,000 crore-mark this year; investments too will increase.
Citycell was the only operator that found negative growth in revenue segment in fiscal 2015-16: its revenue slumped 46 percent to Tk 72.27 crore.