Telcos getting back customers
Subscriber base fell earlier due to biometric verification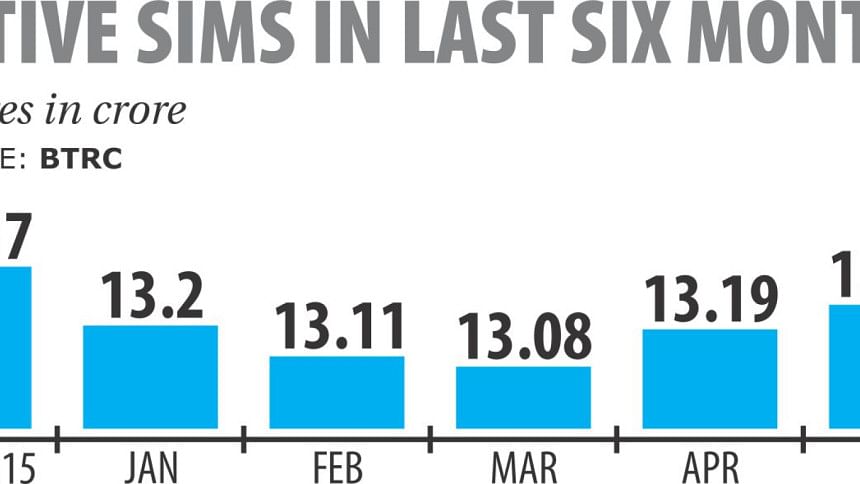 The mobile phone industry is seeing a rise in its customer base after it got hit in the first three months of the year.
The total number of active SIMs by the end of May stood at 13.26 crore, according to the telecom regulator's monthly report. The industry added 11.68 lakh new mobile internet connections in May, just prior to the end of the SIM re-registration process, according to a report of Bangladesh Telecommunication Regulatory Commission.
The operators added seven lakh new connections in May as well, said the report. As of May, the total number of internet connections stands at 6.33 crore, 5.98 crore of which are from the mobile segment.
The Wi-Max industry has consistently been losing customers for the last couple of months, and its total number of connections stood at 1.18 lakh at the end of May.
However, the number of fixed internet connections increased 1.51 lakh in May to reach a total of 33.70 lakh.
Till May 31, all six mobile operators verified or re-registered 11.70 crore SIMs, and blocked all unverified SIMs from the first day of June.
Complying with a government order, the operators began re-registration with biometric verification from January and they lost connections in the first three months.
The start of January saw 13.37 crore active SIMs, which declined to 13.08 crore as of March.
The operators started receiving a positive response in terms of active connectivity from April.
Till May 31, the number of active Grameenphone connections stood at 5.73 crore, while it registered around five crore SIMs till the deadline.
Out of 3.22 crore active connections, Banglalink registered 2.8 crore as of May 31.
Robi had 2.77 crore active connections at the end of May and they re-registered 2.18 crore till then. Airtel re-registered 70 lakh out of 1.01 crore active SIMs.
Teletalk had 44 lakh SIMs by the end of May and it re-registered half of it. Citycell had 7.35 lakh active SIMs and re-registered only two lakh.